Precision Equipment
Duplex angular contact ball bearings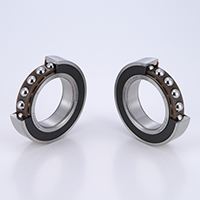 These are bearings combining two or more angular ball bearings in back-to-back arrangement, face-to-face arrangement, or tandem arrangement.
Face-to-face duplex (DF) or back-to-back duplex (DB) bearings can bear axial loads in both directions. Back-to-back duplex bearings have a higher moment load bearing capacity than face-to-face duplex bearings. Tandem duplex bearings can bear a larger single-direction axial load than single bearings.
Related Catalog
Ball screw support bearings
Related Catalog
Bearings for Special Environments
Related Catalog
Linear ball bearings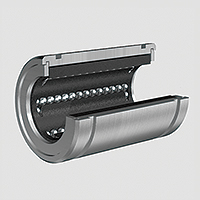 These are composed of an outer ring, steel balls, and a cage, where the steel balls circulate the ball bearing. The result is a smooth and precise infinite linear motion.
Related Catalog
Linear roller bearings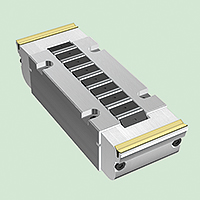 These contain cylindrical rollers capable of circulating within the block (orbital unit), enabling smooth linear motion on a flat surface. The cylindrical rollers are retained and guided by the cage (separator) and the ribs of the block.
The construction does not allow contact between adjacent rollers, meaning the friction coefficient is low.
Related Catalog
Linear flat roller bearings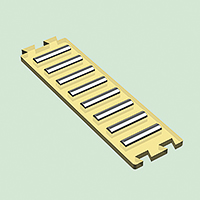 These are composed of a needle roller integrated into a flat cage. Linear flat roller bearings can be inserted on two planes to ensure smooth reciprocating motion with less friction coefficient.
Related Catalog
Plastic bearings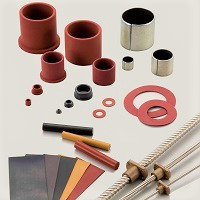 Bearings made of resin material for slippery surfaces or axes. Can be adopted for a wide range of fields and machine components due to light weight, lower cost, and versatility compared to metal. Generate less vibration and noise and have a lower slip friction coefficient due to light weight. Excellent plastic workability and electrical insulation when heated, water-resistant.
Related Catalog
Parts feeder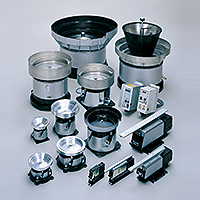 Devices that automatically align a wide variety of components such as machine parts, electronic parts, plastic parts, chemicals, pharmaceuticals, food products, or miscellaneous goods and feeds them through a chute to an automated machine etc.
Parts feeder are simple devices consisting of leaf springs, electromagnets, vibratory vessels, and various other parts, but are critical for aligning and feeding processes in diversified production technologies. They must be increasingly faster and more reliable.
Related Catalog
Maintenance
Related Catalog
NTN Portable Vibroscope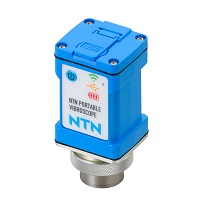 A small vibration measurement device that has excellent portability and usability for detecting abnormalities such as unbalance and misalignment of machines with rotating parts, performing FFT (Fast Fourier Transform) analysis and OA (Overall) measurement by wireless communication with tablets and smart devices.
Related Catalog