Electric Vehicle (EV)
Electric Motor and Actuator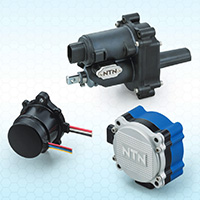 NTN has combined its core technologies of bearings and ball screw product technology with motor design technology and electrical control technology to develop the "Electric Motor and Actuator" series.
The product lineup features common components and specifications, and is available with variations in shape and size, which eliminates the need for individual designs for a shorter development time.
Related Catalog
Electromechinal Brake System
The lightweight and compact "Electromechanical Brake System with Parking Brake" improved usability by integrating a parking brake function with an electric brake actuator utilizing a planetary roller screw type. Achieved a parking brake mechanism with a structure, where the lock pin of a solenoid fixed to the housing slides in/out of the lock pin hole established on the side of the internal gear.