Speckles and Discoloration
Speckles and Discoloration
Condition
Cause
Solution

Speckles

Raceway surface is matted and speckled.
Speckles are clusters of tiny dents.

Discoloration

The surface color has changed.

Ingress of foreign objects
Poor lubrication
Temper color by overheating.
Deposition of deteriorated oil on surface

Speckles

Improvement in sealing efficiency
Filtration of oil
Improvement in lubrication system

Discoloration

Oil deposition is removable by wiping with an organic solvent (oxalic acid).
If roughness is not removable by polishing with sandpaper, it is rust or corrosion. If completely removable, it is temper color due to overheating.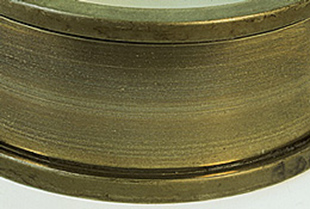 Inner ring of double row tapered roller bearing (RCT bearing)
Raceway surface is speckled
The cause is electric pitting.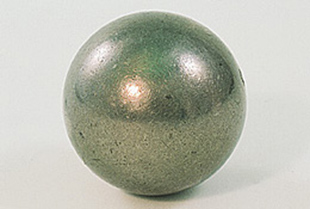 Ball of deep groove ball bearing
Speckled all over
The cause is foreign objects and poor lubrication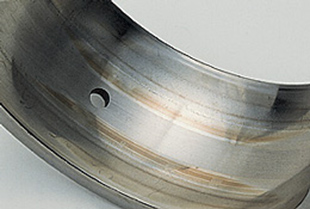 Outer ring of spherical roller bearing
Partial oil deposition on raceway surface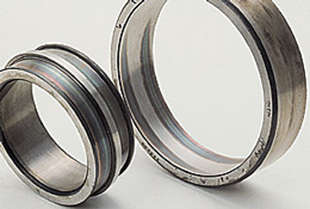 Spherical roller bearing
Discoloration of inner and outer ring raceway surfaces
The cause is deterioration of lubricant.