Automobile/Motorcycle
Deep groove ball bearings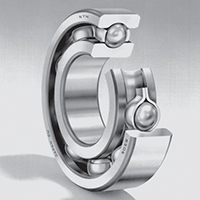 The most typical type of bearing, these are used in a wide range of fields. They include grease-enclosed sealed and shield bearings for ease of use.
Other types include bearings with a locating snap-ring to facilitate positioning when mounting the outer ring, expansion compensating bearings that absorb variations in bearing fitting surface dimensions due to housing temperature, and TAB bearings that are resistant to contamination in lubricating oil.
Related Catalog
Double-row angular contact ball bearings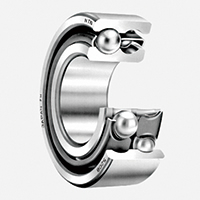 These have a structure that arranges single row angular contact ball bearings as back-to-back duplex (DB) bearings, uniting both the inner ring and outer ring.
They are able to bear radial loads and bi-directional axial loads, with ability to bear moment loads as well.
Both seal-type and shield-type bearings are available, with rated loads differing from open types.
Related Catalog
Needle roller bearings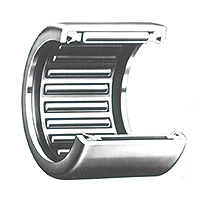 These bearings use small needle rollers, 6mm or less in diameter with a width 3 to 10 times diameter, as rolling elements. As such, they feature low cross-section height, high load capacity relative to dimensions, and high rigidity due to the number of elements, and are suited to wobbling or pivoting motion.
Related Catalog
Tapered roller bearings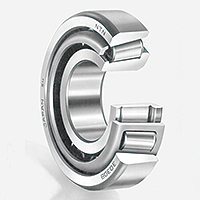 Tapered roller bearings are designed so the inner and outer ring raceway and the apex of the tapered rollers intersect at one point on the bearing centerline. For this reason, the rollers are pushed against the inner ring rib and roll guided by the rib, receiving the loads from the inner ring raceway surface and the outer ring raceway surface as a combined load on the raceway surface.
Component force is produced in the axial direction when a radial load is applied, so the bearings must be used in pairs. The inner ring with rollers and outer ring separate, facilitating mounting with clearance or preload. However, assembled clearance is hard to manage and calls for attention. Tapered roller bearings are capable of supporting large loads, both axial and radial.
Related Catalog
Needle roller thrust bearings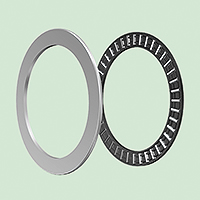 These include bearings using machined parts and bearings using pressed steel plate parts for the raceway washer, with the latter type having the smallest cross-sectional height and high load-bearing capacity.
Related Catalog
Polylubu bearings
Related Catalog
Long-Life AS Series TAB/ETA bearings
Related Catalog
HL bearings
Related Catalog
Hub bearings
Related Catalog
Needle roller and cage assemblies for connecting rod bearings
Related Catalog
Plastic bearings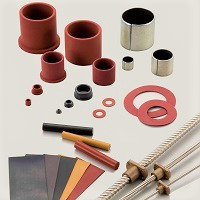 Bearings made of resin material for slippery surfaces or axes. Can be adopted for a wide range of fields and machine components due to light weight, lower cost, and versatility compared to metal. Generate less vibration and noise and have a lower slip friction coefficient due to light weight. Excellent plastic workability and electrical insulation when heated, water-resistant.
Related Catalog
Oil impregnated bearings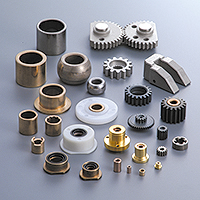 Bearings with an oil-impregnated porous sintered body mainly composed of metal powder. Oil is impregnated into the pores of the bearing itself, resulting in efficient lubrication inside the bearing during operation.
Related Catalog
Spherical plain bearings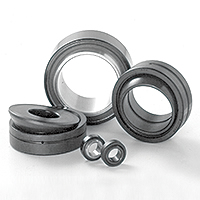 Self-aligning bearings with sliding spherical surfaces which can support radial loads or axial loads in both directions. Ideal for vibrating or aligning movement and is widely used in construction machinery and industrial machinery.
Related Catalog
Constant Velocity Joints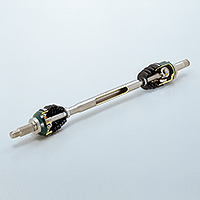 Components used to transmit rotational motion so both axes rotate at a constant velocity regardless of the angle between the input and output shaft, and torque is transmitted smoothly (bearings used here).
Related Catalog
Auto tensioners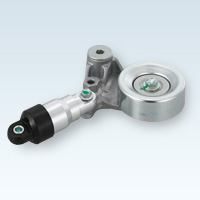 Abbreviation for automatic tensioner, which is a device to always maintain proper tension of the timing belts or chains that transfer the crankshaft rotation to the camshaft and of the accessory drive belts. The timing belts and chains use gear drive while, the accessory drive belts use friction drive.
Related Catalog
Clutches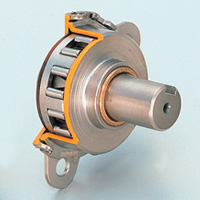 Mechanical element that controls the transmission and interruption of rotational force. Includes the one-way clutch which only drives in one direction and is idle in the reverse direction, the two-way clutch which is capable of switchover between drive and idle modes in both directions, and the torque diode where the output shaft also rotates if the input shaft is rotated.
Related Catalog
Electric Motor and Actuator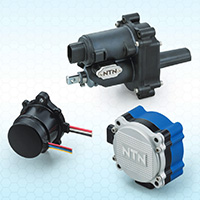 NTN has combined its core technologies of bearings and ball screw product technology with motor design technology and electrical control technology to develop the "Electric Motor and Actuator" series.
The product lineup features common components and specifications, and is available with variations in shape and size, which eliminates the need for individual designs for a shorter development time.
Related Catalog