Aerospace
Deep groove ball bearings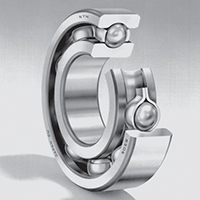 The most typical type of bearing, these are used in a wide range of fields. They include grease-enclosed sealed and shield bearings for ease of use.
Other types include bearings with a locating snap-ring to facilitate positioning when mounting the outer ring, expansion compensating bearings that absorb variations in bearing fitting surface dimensions due to housing temperature, and TAB bearings that are resistant to contamination in lubricating oil.
Related Catalog
Angular contact ball bearings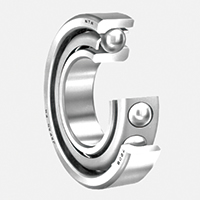 In these ball bearings, the direct line that connects the inner ring, balls, and outer ring has a given angle in the radial direction (the contact angle).
This angle is generally designed with three kinds of contact angle.
These bearings can bear axial loads, but because of the contact angle cannot be used singly and must be used in pairs or combinations.
Related Catalog
Cylindrical roller bearings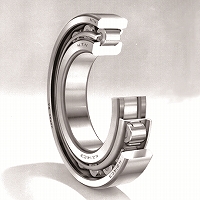 These use rollers as the rolling elements and have a high load capacity. The rollers are guided by the ribs of the inner or outer ring. The inner and outer rings can be separated to facilitate assembly, and both can be fitted tightly.
On types with no ribs, either the inner or the outer ring can move freely in the axial direction, making cylindrical roller bearings ideal for use in free side bearings that absorb shaft expansion.
On types with ribs, the bearing can bear a slight axial load between the roller end surfaces and the ribs. Cylindrical roller bearings include the HT type that modifies the shape of roller end surfaces and ribs to increase axial load capacity, and the E type that has a special internal design to increase radial load capacity. The E type is standard for small-diameter sizes.
Related Catalog
Ultra thin wall type ball bearings
Related Catalog
Bearings for Special Environments
Related Catalog
Plastic bearings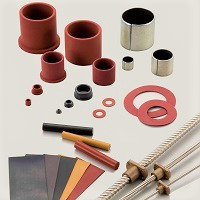 Bearings made of resin material for slippery surfaces or axes. Can be adopted for a wide range of fields and machine components due to light weight, lower cost, and versatility compared to metal. Generate less vibration and noise and have a lower slip friction coefficient due to light weight. Excellent plastic workability and electrical insulation when heated, water-resistant.
Related Catalog