Notice of Head Office Relocation

March 25, 2022
NTN Corporation announces that the Company has decided to relocate the head office within the summer of 2023 and signed a lease agreement with the owner of the new office.
New office
Name of building: Daibiru-Honkan
Address: 3-6-32, Nakanoshima, Kita-ku, Osaka, Japan
Relocation: summer of 2023(plan)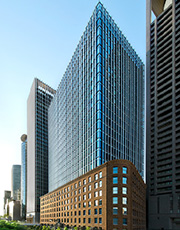 Purpose of relocation
The current head office is deteriorating and NTN will secure the business continuity and the safety and security of employees in the event of natural disaster, such as a large-scale earthquake, which is expected to occur in the future. Also, the Company will work to reduce its environmental impact by relocating to the office that is more environmentally friendly.
In response to changes in work styles, we will reduce office space, achieve efficiency in business activities by shifting from owning to using assets and reduce the cost.
About new office
The new office will be designed to suit flexible work styles, including telecommuting, and will adopt a free-address system that enables smooth collaboration across departments in an environment that facilitates the creation of new ideas and communication.
We will design the office to meet various needs, such as a dedicated space for web conferencing, an area for open meetings, and dedicated booths to concentrate on the work, to improve work environment and productivity.
The new office adopts CO2-free electricity, which will contribute to reducing CO2 emissions by using electricity, ahead of other buildings. In addition, we will work to reduce the environmental impact of our business activities by promoting a paperless office.
Inquiries about this release