NTN Receives Mobility Components Award of 2020 "CHO" MONODZUKURI Innovative Parts and Components Award

October 23, 2020
NTN Corporation (hereafter, NTN) has received Mobility Components Award of 2020 "CHO" MONODZUKURI Innovative Parts and Components Award sponsored by MONODZUKURI. Nippon. Conference and Nikkan Kogyo Shimbun, Ltd
Award Name

Mobility Components Award of 2020 "CHO" MONODZUKURI Innovative Parts and Components Award
Awarded Product
Low Friction Hub Bearing III
Product Overview
The product is the hub bearing for automobiles that reduces rotational friction by 62% compared to conventional products. NTN has been developing hub bearings to reduce friction and, in this development, we have adopted a structure of seal that further reduces friction, optimized preload inside the bearings, and reviewed the ingredient of grease. It also improves the resistance to wear to prevent fretting wear*1 in low-temperature condition.
Wear caused by micro-vibration during transportation of vehicles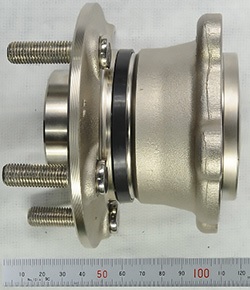 Low Friction Hub Bearing III
Reasons for Receiving the Award
In the automotive market, measures to improve the automotive fuel efficiency are taken and regulations on CO2 emissions are tightened more and more globally. When converting the low friction characteristics to fuel efficiency, we can expect that the product improves the fuel efficiency of automobiles by 0.53%*2 and contributes to save energy and reduce CO2 emissions.
NTN received this award because our engineers working in the company, that has world's top share of hub bearing, have utilized the tribology technology and manufacturing technology accumulated until today and achieved the further low friction. These points are highly evaluated.
Calculated based on NTN's method. Travel distance increased about 4.5 to 5.5 km with a single refueling by improving fuel efficiency of automobiles by 0.53%
(calculated on the basis of catalog values of gasoline vehicles 1,200 to 1,500 cc)
Inquiries about this release