Supporting Race for Four Consecutive Years NTN to be the Title Sponsor for "2020 Tour of Japan" Official International Cycle Road Race

January 17, 2020
"NTN Rotating School" Held for Learning about Environment
NTN Corporation (hereafter, NTN) will be the title sponsor of "2020 Tour of Japan" (hereafter, TOJ) , the Official International Cycle Road Race, to be held in this May. It has been four consecutive years since 2017 for us to be the title sponsor of this event.
TOJ is one of the top-level international bicycle road race recognized by the UCI (Union Cycliste Internationale) and marks the 23rd year in 2020. The race is gathering the attention year by year as the cycle road races is getting awareness and popularity more and more. Last year, 16 teams of top-class athletes all over the world participated in the race, and approximately 300,000 people viewed the race for 8 days. This year, the race will be held in eight stages from May 17 (Sunday) to May 24 (Sunday).
Through the implementation of our corporate philosophy, NTN aims to realize "NAMERAKA*" society where people and nature are in harmony and people can live comfortably and enrich their lives. With regard to the United Nations' Sustainable Development Goals (SDGs), NTN is tackling them to protect the environment and foster the next generation, including contributions to the society through our business and exchanges with local communities around the world.
Through this title sponsorship, NTN will not only revitalize the race but also conduct contribution activities to the local communities, the major philosophy of this event, by holding "NTN Rotating School" where people and children who are the next generation of the world can enjoy learning about environmental and energy issues.
* "NAMERAKA" means "smooth" in Japanese
Last year's race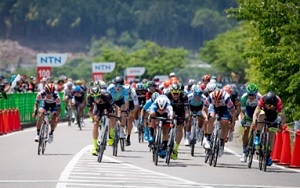 PHOTO:TOJ2019
Last year's NTN Rotating School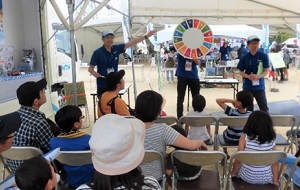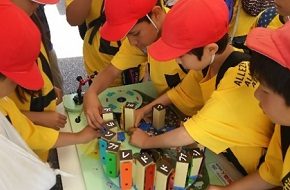 About the race
Name
"NTN presents 2020 Tour of Japan"
UCI (Union Cycliste Internationale) Official International Cycle Road Race
(Race class 2.1)

Organizer
Cycle Month Promotion Council
Management
Tour of Japan Organizing Committee (Secretariat: Bicycling Popularization Association of Japan)
Supervisor
Japan Bicycle Federation
Schedule

May 17 (Sunday) to May 24 (Sunday) 2020

Location

8 stages in Japan (Sakai, Kyoto, Inabe, Mino, Minami-shinshu, Fuji International Speedway, Fuji, Tokyo)

Official site
http://www.toj.co.jp/
* The schedule and contents may change.
About "NTN Rotating School"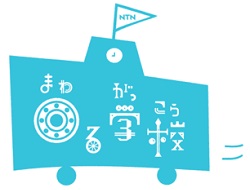 Name
"NTN Rotating School"
Details

Continuing from the last three years, we will continue to hold the "NTN Rotating School" event this year, which deepens ties between the local community and the next generation, in every stage. NTN employees will play a leading role in providing children and spectators with opportunities to learn about energy-saving technologies for a sustainable society and bearings, our core product, through workshops and hands-on attractions.

We will prepare the programs which every people can enjoy including the music-themed programs which were very popular in the last year.

How to Participate

Reservation is not needed for individuals.

We also welcome the participation of groups that lead children in schools and educational institutions as a forum for learning for the next generation.

If you are interested in, please contact the following directly.

Contact

Corporate Value Promotion Dept., NTN Corporation

YouTube channel

official NTN YouTube channel.

https://www.youtube.com/NTNcorporation

Please search for "YouTube NTN Official"

Videos of NTN Rotating Schools in the past are available.
Inquiries about this release