To Build System for Reducing Disasters and Monitoring Using Renewable Energy and IT "Long Distance Wireless Transmission Experiments between Bases" Conducted

November 22, 2019
Construction of network utilizing natural energy as a communication infrastructure at event of blackout or communication interruption due to disasters
On November 7, NTN Corporation (hereafter, NTN) conducted long distance wireless transmission experiments between bases at the Suita Campus of the National University Corporation Osaka University (hereafter, Osaka University) as part of a joint research on disaster prevention and monitoring using IT. *1
Since 2017, NTN has been participating in joint research with Osaka University, National Residents' association Activity Support net and other companies on disaster prevention and monitoring using information technology. *2 Until today, we have installed three independent power supply units "NTN Green Power Station," which generates the electricity from wind and solar power, in the Suita Campus as experimental units, and we have conducted experiments and verifications.
This time, assuming the area around the Suita Campus of Osaka University as disaster area, and the Tsukumodai Elementary School of Suita City as a relief headquarters, we used long distance wireless system to transmit and receive assumed disaster situation. In the experiment, we communicated the number of victims and injuries from an independent power supply in front of the building of Graduate School of Human Science through an application. A message was sent to the relief headquarters, which was about 2.5 km away from the campus, via the antennas of the two independent power supply units in the campus, Graduate School of Human Science and Graduate School of Engineering. We also checked the damage status by using camera and sent and received messages between the disaster area and the relief headquarters. We had been conducting communication experiments in the campus, but this was the first time to conduct wireless transmission over long distances.
In September of this year, Typhoon Faxai (No. 15) caused large-scale damage in Chiba Prefecture, Japan and other prefectures, and power outages and communication interruptions occurred in a wide area over a long period of time. It made people difficult to understand the situation of the disaster and conduct relief activities. The establishment of a communication systems*3 that utilize renewable energy in this joint research is a solution to this kind of situation. It is assumed that the system will be used not only in the event of a disaster, but also in daily life for monitoring local children by equipping surveillance cameras and other equipment with the system.
NTN will continue to contribute to the safety and security of local communities by building a system that will help to promote disaster prevention, disaster mitigation, and monitoring of the local community through this joint research.
Report at Omni Site of Osaka University (Japanese version only)
Osaka University Omni Site:
http://www.ssi.osaka-u.ac.jp/activity/other/tasukan-nen/
September 25, 2017 pressed release:
NTN Participates in "Joint Research for Creating Mechanisms Regarding Disaster Prevention Monitoring and Tourism through Use of IT"
https://www.ntnglobal.com/en/news/press/news201700089.html
The name of the independent power supply system and its mechanism, which are the results of this joint research, is called "TASUKAN-NEN" which means "helpful" in Osaka dialect.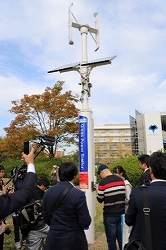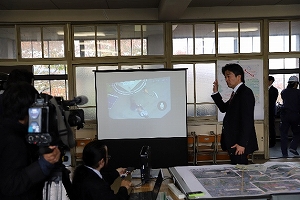 Image of Long Distance Radio Transmission Experiments between Bases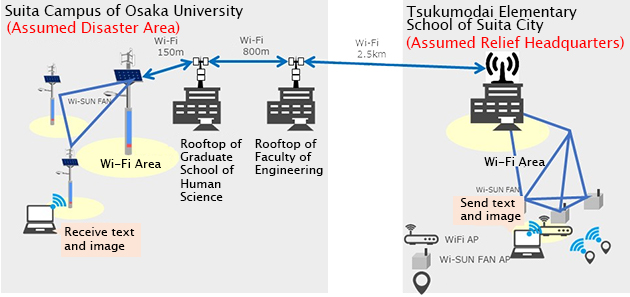 Inquiries about this release