Prime Minister of Canada, Justin Trudeau attends 50th Anniversary Celebration of NTN Bearing Corporation of Canada

October 16, 2018
The Right Honourable Justin Trudeau, Prime Minister of Canada attended NTN Bearing Corp. of Canada Ltd. (hereafter, NTN Canada)'s commemorative ceremony celebrating the 50th anniversary of its operations in Canada on September 27 in Toronto, Ontario.
Over 200 people gathered to celebrate this milestone, which also marked the 100th anniversary of NTN Corporation (hereafter, NTN)'s founding as a global brand. Special guests in attendance included Chancellor Hazel McCallion, the former Mayor of Mississauga, Hiroshi Ohkubo, President, NTN, and Yoshinori Terasaka, Managing Director, along with NTN's customers, distributors and industry partners.
"NTN is a leading example of a long standing Japanese manufacturer in Mississauga that continues to introduce new innovative products to Canada," said McCallion adding that "the 100th anniversary of NTN's founding is a tremendous milestone achieved in the competitive world of global business."
Prime Minister Trudeau addressed the audience recognizing the contributions NTN Corporation has made to the community and acknowledged NTN as a great example of global success and international investment in trade.
President Ohkubo delivered a speech expressing gratitude to NTN Canada's customers for their continued patronage and support. President Ohkubo also reinforced NTN's commitment to future development stating "NTN remains committed to growing the Canadian economy and continuing our tradition of introducing new innovative bearing products to Canada."
NTN Canada was established in Canada in 1968 to help support local sales of NTN bearings in the Canadian market. NTN Canada's manufacturing operations commenced in 1973 and throughout the last five decades, NTN has continued to increase its production volume adding production capacity and expanding its distribution facilities in Canada.
Going forward, NTN plans to continue to contribute to local communities and grow its global sales by expanding local procurement and production in adherence to its vision of using "local sites with local material by local personnel".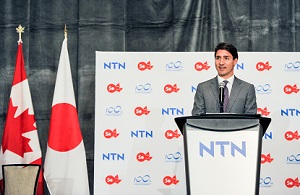 Congratulatory speech by the Right
Honourable Justin Trudeau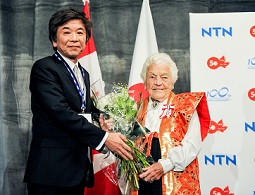 President Ohkubo presents a bouquet to
Ms. McCallion, the former Mayor of Mississauga
Overview of NTN Canada
| | |
| --- | --- |
| (1) Company Name | NTN BEARING CORP. OF CANADA LTD. |
| (2) Line of Business | Manufacture of bearings and sales of bearings, driveshaft and precision equipment |
| (3) Location | Mississauga, Ontario |
| (4) Capital | 20,100,000 CAD |
| (5) Site Area | Approximately 61,500m2 |
| (6) Total Floor area | Approximately 25,000m2 |
| (7) Employee | Approximately 250 employees |


NTN Canada(left:manufacturing base, right:sales office)
Inquiries about this release