NTN Acquires Shares of Hakui Maruzen Co., Ltd.

October 1, 2018
NTN Corporation(hereafter, NTN) acquires all outstanding shares (excluding treasury shares) of Hakui Maruzen Co., Ltd. (Headquarter: Ishikawa Prefecture, President: Mitoe Taira, hereafter, Hakui Maruzen) which manufactures forged products for bearings, connectors of casing pipe in oil-drilling, construction machineries, and other machines.
Hakui Maruzen, based in Noto region, Ishikawa Prefecture, has manufactured dimensionally-precise forged rings by utilizing own-developed rolling mills and molds and supplied them under the brand of "Taira Forging®" to customers in Japan and overseas. Especially, Hakui Maruzen has excellent forging technology called "near-net shape" which process the ring to near the shape of finished products in manufacturing special-shaped forged rings and its technology enables high competitiveness to reduce both environmental impact and cost. NTN has procured forged products of bearings for industrial machineries such as extra-large bearings over 2-meter diameter for wind turbine from Hakui Maruzen.
With this share acquisition, NTN will strengthen integrated bearing production system in Noto region as well as enhancing competitiveness of bearings for industrial machineries.
For the business of connectors of casing pipe in oil-drilling and construction machineries utilizing forging technology of Hakui Maruzen, NTN will take over them without any change in its spirit, know-how, nor sales method which have accumulated for 50 years since its foundation. We continue to enhance deal with customers to expand industrial machinery business.
1.Overview of Hakui Maruzen (as of October 1, 2018)
(1) Company Name
Hakui Maruzen Co., Ltd.
(2) Location
Chiyomachi, Hakui City, Ishikawa Prefecture
(3) Representative
Executive Chairman Yoshinori Heda
President Mitoe Taira
(4) Line of Business
Manufacturing and sales of forged products
(5) Capital
30 million yen
(6) Established
1968 (established as "Taira Forging Co., Ltd.")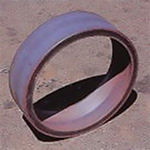 Ring for Bearing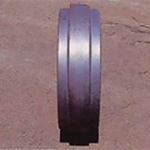 Ring for Idler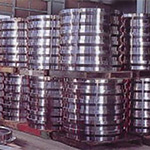 Base for Slewing Bearing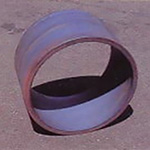 Forged Product for Connector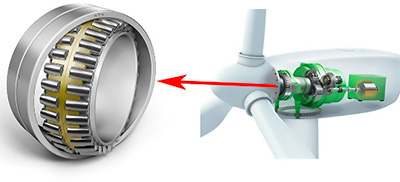 Reference
NTN Integrated Production System in Noto Region, Ishikawa Prefecture
In Noto region, NTN has established NTN Hakui Corp., NTN Houdatsushimizu Corp., NTN Shika Corp., and NTN Noto Corp., since 2007. It is now one of our major manufacturing base for industrial machineries including bearings for wind turbine as well as Kuwana region. NTN has been enhancing competitiveness by establishing integrated production system in Noto region with initiatives such as establishment of new heat treatment plant in NTN Noto Corporation in 2017.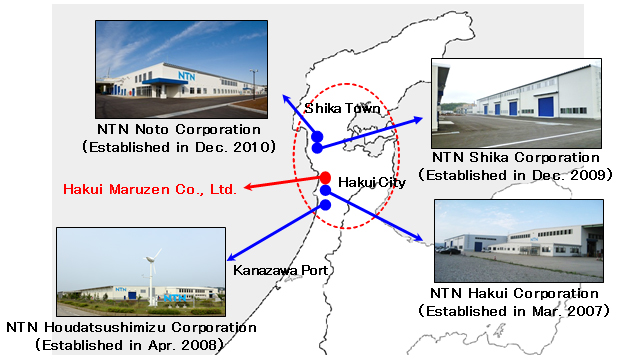 Production Process of Bearing

Inquiries about this release