Work Clothes Renewed for the First Time in 50 Years

September 18, 2018
In commemoration of the company's 100th anniversary, NTN will begin introducing new work clothes at its Japanese production and R&D bases from October 2018 in an aim to improve employee motivation
NTN Corporation (hereafter, NTN) celebrated its 100th anniversary on March 1, 2018. In commemoration of this outstanding milestone for the company, NTN has decided to renew its work clothes for the first time in 50 years. This will be done with the aim of improving employee motivation and satisfaction. The renewed work clothes are for employees at production and R&D bases in Japan. NTN will gradually start changing work clothes at each of its plants in Japan from October this year. The company plans to completely shift to the new uniform from April 2019 and approximately 6,000 NTN employees will wear the new look.
NTN decided to reconsider the appearance of its uniforms after the results of an employee survey showed that many employees wanted a different look. In 2017, around 50 employees aged 20 to 59 participated in establishing a Renewal Committee, and after roughly one year of trial manufacturing and inspections, a final design was agreed upon in March 2018.
NTN will continue developing its business in the future and hopes that these new work clothes will further increase the sense of unity among employees.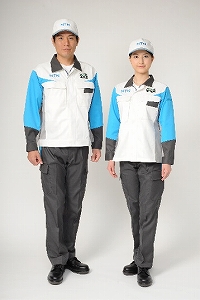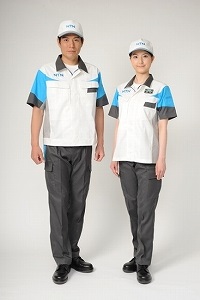 The motif for the new work clothes is a unisex design
with underlying tones of white and corporate blue.
There are both long-sleeved and short-sleeved versions.
Main Features of the New Work Clothes
Improved safety & functionality

Made using highly stretchable materials so it's easier for workers to crouch down
Feels less tight when bending over and is pleated at the waist so that workers' backs cannot be seen

Design

Unisex design with underlying tones of white and corporate blue to represent NTN's corporate image of striving to contribute to society and achieve further growth
Dark colored pants that aren't translucent and make dirt less obvious

Eco-friendly material

Plant-derived cloth made from sugarcane

Maternity uniforms available

Maternity uniforms with elastic waist straps are available as well
Inquiries about this release