NTN Starts First Overseas Mass-production of Precision Bearings in Germany

August 24, 2018
Reducing delivery lead time for machine tools with local production
NTN Corporation (hereafter, NTN) will start its first overseas mass-production of precision bearings for machine tools at NTN Mettmann (Deutschland) GmbH, a subsidiary of manufacturing company NTN Kugellagerfabrik (Deutschland) GmbH (hereafter, NTN DMF) located in Germany from end of August 2018.
1. The aim of local production
Until now, NTN has been producing precision bearings within Japan mostly at the Kuwana Works (in Kuwana City, Mie Prefecture). However, we encountered problems in that we were unable to deliver our product in a timely manner to Europe, which is the largest market for machine tools. This is because that it normally requires about 2 months to simply transport products from Japan.
NTN DMF is a manufacturing company that was first established in Europe as a Japanese corporation in 1971. Using the company's bearing production know-how cultivated locally over many years and part of its existing building as a subsidiary company will make it possible to produce precision bearings that require a high level of technical capability.
Starting mass-production of precision bearings in Germany means that we can supply products in three weeks after receiving an order in the European market. This reduction in delivery lead time will improve the ability to support customer requests in a timely manner and also improve our presence in the area in the near future. It will also mean that we can acquire new customers. These factors are part of our plan to increase net sales of precision bearing by approximately 30% in the European market over the three years of the Medium-term Management Plan "DRIVE NTN100", which started in April this year.
2. Features of precision bearings produced in Germany
(1)
High precision angular contact ball bearings (outer diameter from 35 mm) focusing on P42 precision grade*1, which is in high demand in Europe
(2)
High versatility universal specifications*3 due to flush grinding processing *2
⇒ Enables the use of multiple rows with high versatility and the ability to combine freely
Dimensional precision JIS4 grade and rotational precision JIS2 grade bearings. Precision is defined by ISO standards and JIS standards in the order of grades 0→6→5→4→2 indicating the increase in precision.
Processing to eliminate differences in face height (the front and back faces of inner and outer rings are aligned with each other) of angular contact ball bearings used with multiple row combinations.
A specifications that controls the bearing-to-bearing dimensional differences in the bore and outside diameters. It can be used for any arrangement of face-to-face/back-to-back/tandem duplex and clearance does not have to be adjusted.
3. About precision angular contact ball bearings
Angular contact ball bearings are bearings with a contact angle that can receive axial loads in addition to radial loads by using multiple rows in combination with bearings. Therefore, they are suitable for use with high rotational speeds at high precision on such as the main shaft of machine tools. Among angular contact ball bearings, bearings that have a precision grade of 5 or higher (grades 5, 4 and 2) are referred to as "precision bearings" and have their dimensions, shape and rotational precision defined by ISO standards and JIS standards.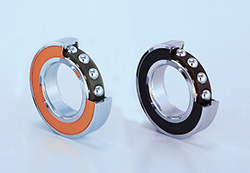 Reference
NTN DMF overview
| | |
| --- | --- |
| (1) Company name | NTN Kugellagerfabrik (Deutschland) GmbH (NTN DMF) |
| (2) Description of business | Manufacture and sale of bearings for automobiles and precision bearings |
| (3) Location | Mettmann, North Rhine-Westphalia |
| (4) Capital | 18.5 million euros |
| (5) Site area | Approx. 62,000m2 |
| (6) Total floor space | Approx. 26,000m2 |
| (7) Number of employees | 132 |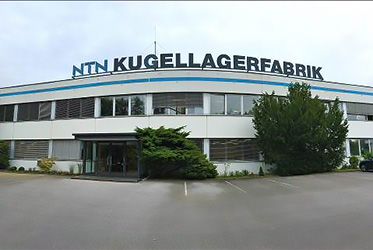 NTN Kugellagerfabrik (Deutschland) GmbH
NTN sites in Europe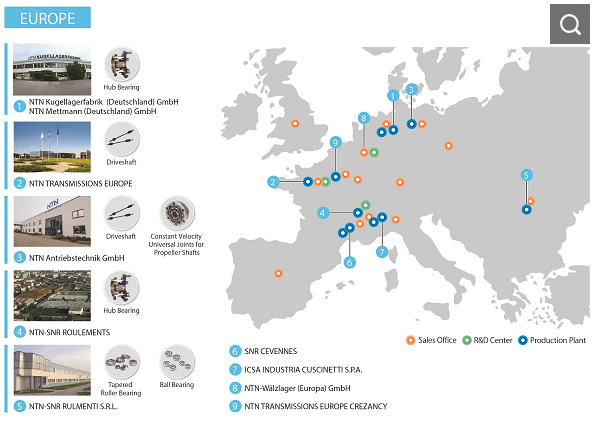 Inquiries about this release