"NTN presents 2018 Tour of Japan" Press Conference

April 11, 2018
Continuing sponsor from last year and holding the sponsored event "NTN Rotating Workshop" to learn about energy saving
NTN Corporation (hereafter, NTN) will sponsor the "NTN presents 2018 Tour of Japan" (hereafter TOJ), the largest international cycle road race in Japan, continuing on from sponsoring the event last year.
TOJ is the UCI (Union Cycliste Internationale) official international cycle road race to be held in Japan, and this year marks the 21st time. This year the race will be held in eight stages over eight days, starting from the Sakai stage (in Osaka) on May 20 (Sun) to the Tokyo stage (in Tokyo) on May 27 (Sun). NTN has been the title sponsor since last year, and in addition to providing support for the event, will also hold the sponsored event "NTN Rotating Workshop" at each stage. The "NTN Rotating Workshop" includes workshops and activity learning for local children and spectators to help them understand more about energy-saving technology related to sustainable societies.
An official press conference was held in Ebisu, Tokyo on March 28, where the TOJ organizing committee provided an overview of the race and introduction of participating teams and courses. NTN also explained the significance of sponsoring the event this year, and provided a report on the "NTN Rotating Workshop" held last year and an overview of the "NTN Rotating Workshop" planned for this year.
NTN will add further excitement to the event by sponsoring the event and holding the "NTN Rotating Workshop" while helping to promote understanding about energy-saving technology for sustainable society.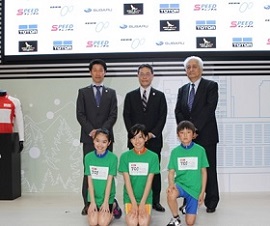 (front row) The TOJ kids
(back row, from left)
TOJ Director Osamu Kurimura,
NTN Managing Director Keiji Ohashi,
TOJ Chairperson Katsumi Ishiguro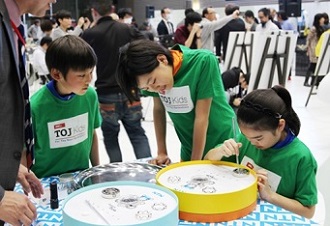 The TOJ kids trying to assemble bearings
at the display area
The following is an overview of the sponsorship.
Significance of sponsorship
Bicycles have become the symbol of ecology, a topic that is in common with the concept of global environmental conservation behind NTN's tribology technology. Bearing technology aimed at making things move smoothly, and this cycle road race that pursues the smoothest run, align perfectly with the goals of NTN.
TOJ is effective for regional promotion as it attracts a large audience from the general public, and NTN also considers it an extremely important event for contributing to the local community. With this in mind, NTN hopes to make a valuable contribution to the development of regions hosting cycling stages.
Sponsored event
The "NTN Rotating Workshop," an event to boost ties between communities and next-generation, will also be held in each stage again this year.
The "NTN Rotating Workshop" for this year will consist of a curriculum that includes workshops and active learning for children and spectators in each region to help them learn about energy-saving technology related to sustainable societies while having fun. A fresh new curriculum is being planned for this year in coordination with universities and high schools.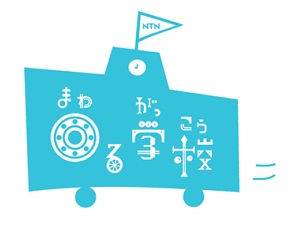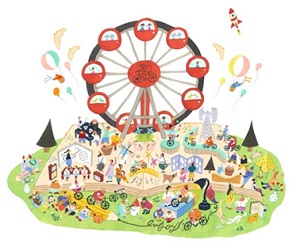 Outline of the race
Name
UCI Official International Cycle Road Race
"NTN presents 2018 Tour of Japan"
http://www.toj.co.jp/english/
Race Category
UCI Asia Tour 2.1
Organizer
Cycle Month Promotion Council
Supervisor
Tour of Japan Organizing Committee
(Secretariat: Bicycling Popularization Association of Japan)
Race Supervisor
Japan Cycling Federation
Entry Teams
Total 16 teams (8 overseas, 8 Japanese)
Race Schedule

May 20 (Sun) to 27 (Sun), 2018

May 20 (Sun)

Sakai Stage (Osaka Prefecture)

May 21 (Mon)

Kyoto Stage (Kyoto Prefecture)

May 22 (Tue)

Inabe Stage (Mie Prefecture)

May 23 (Wed)

Mino Stage (Gifu Prefecture)

May 24 (Thu)

Minami-Shinshu Stage (Nagano Prefecture)

May 25 (Fri)

Fujisan Stage (Shizuoka Prefecture)

May 26 (Sat)

Izu Stage (Shizuoka Prefecture)

May 27 (Sun)

Tokyo Stage (Tokyo Prefecture)
Inquiries about this release