NTN Establishes "Wakayama Works (Tentative Name)" in Wakayama Prefecture for Production of Radial Bearings

April 4, 2018
NTN Corporation (hereafter, NTN) will establish "Wakayama Works (Tentative Name)," a new plant located in Hashimoto City, Wakayama Prefecture for the production of radial bearings. Wakayama Works will cover the production of radial bearings with high value-added features such as low friction and a long operating life that have rapidly increased in demand due to electrification of automobiles and recovery on demand for industrial machinery. To improve the productivity and operating efficiency of Wakayama Works, NTN will install new equipment and systems as part of a smart factory design, and also roll out these enhancements to other plants in Japan and overseas.
1. Objective of newly constructed Wakayama Works (Tentative Name)
The automotive market has experienced a sudden shift to electrification of hydraulic control and EVs (electric vehicles). Regarding radial bearings used in motors and drivetrain components, there are increased demands for high value-added products such as low friction, low vibrations and long operating life in the automotive market. Also, the industrial machinery market requires NTN's high value-added products like the ULTAGE series thanks to increased demand throughout various sectors such as construction machinery, robotics and machine tools.
By constructing this new plant, production of radial bearings that had previously been conducted in various areas around Japan will be restructured and production of high value-added products will be centralized at Wakayama Works. Wakayama Works will also incorporate a smart factory design concept that consists of new high-productivity equipment for streamlining and automating all production processes, from receiving materials to machining and shipping, with IoT and AI systems. The installation of such new equipment and systems will allow to produce new products that meet market requirements including a longer operating life and more compact designs. NTN will also cut down on the production time for prototypes, and reduce the production lead time to a third of previous methods, resulting in quick delivery of high-quality products around the world.
2. Future plans
Construction will start in stages from July 2018, with mass-production planned to begin from June 2019.
3. Wakayama Works (Tentative Name) Overview
| | |
| --- | --- |
| (1) Location | Hashimoto City, Wakayama Prefecture |
| (2) Line of business | Manufacture of radial bearings and bearing units, etc. |
| (3) Site area | Approximately 109,100 m2 |
| (4) Total floor area | Approximately 60,100 m2 |
| (5) Employees | Approximately 350 (planned for FY2019) |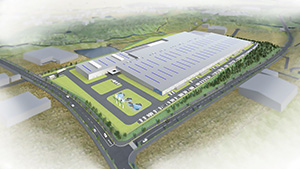 Image of Wakayama Works
Reference
Radial bearings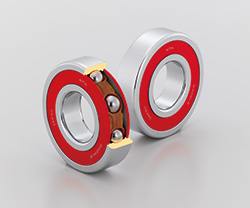 Radial bearings are bearings that support loads that act perpendicularly to shafts. Ball bearings like deep groove ball bearings are typical examples.
Radial bearings are used in parts that need to support rotating shafts of machinery such as motors. Reducing the friction during rotation contributes to smoother shaft rotation and a reduction in energy loss. The production of the ULTAGE series and other special products (high value-added products) designed for the ultimate in rotational performance and long operating life will allow NTN to better meet the requirements of customers.
Inquiries about this release