NTN to be International Cycle Road Race Title Sponsor for "Tour of Japan," Continuing from Last Year

February 21, 2018
Japan's Largest UCI Official International Cycle Road Race
NTN to be Title Sponsor for 2018 Tour of Japan
"NTN Rotating Workshop" to be held
at Each Stage Venue
NTN Corporation (hereafter NTN, Head office: Osaka City, President: Hiroshi Ohkubo, listed on First Section of the Tokyo Stock Exchange) will be the title sponsor of "Tour of Japan" (hereafter TOJ), the largest international cycle road race in Japan that will be held in May 2018, continuing on from being the title sponsor in 2017.
TOJ is the highest-level UCI (Union Cycliste Internationale) official international cycle road race to be held in Japan. This year the race spans a total of eight stages over eight days, starting with the Sakai stage (in Osaka) on May 20 (Sun) through to the Tokyo stage (in Tokyo) on May 27 (Sun). The world's leading cyclists from 16 teams joined the race last year, attracting some 350,000 spectators to watch over eight days.
NTN will be celebrating its 100th anniversary on March 1 this year, and has raised its vision of "developing a smooth society over the next 100 years". There are many activities being planned for the 100th anniversary, and sponsorship of this event is considered of significant importance, due to the common factors between bearing technology being developed to pursue the ultimate "smoothness" and the cycling race, as well as the level of contribution the event will have in regional communities.
Significance of TOJ sponsorship
Bicycles have become the symbol of ecology, a topic that is in common with the concept of global environmental conservation behind NTN's tribology technology. Bearing technology aimed at making things move smoothly, and this cycle road race that pursues the smoothest run, align perfectly with the goals of NTN.
TOJ is also effective for regional promotion as it attracts a large audience from the general public, and NTN also considers it an extremely important event for contributing to the local community. With this in mind, NTN hopes to make a valuable contribution to the development of regions hosting cycling stages.
NTN Rotating Workshop
The "NTN Rotating Workshop," an event to boost ties between communities and next-generation, will also be held in each stage again this year.
Organized mainly by NTN employees, a curriculum that includes workshops and active learning for local children and spectators to help them learn about energy-saving technology related to sustainable societies as well as bearings that are NTN's core products, and other fields while having fun.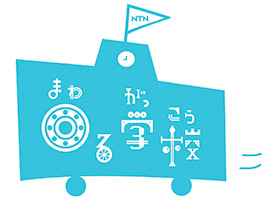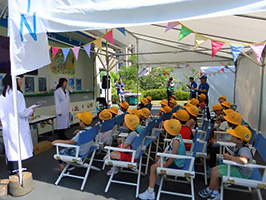 Outline of the race
Name
"NTN presents 2018 Tour of Japan"
UCI (Union Cycliste Internationale) official international cycle road race (race class 2.1)
Organizer
Cycle Month Promotion Council
Management
Tour of Japan Organizing Committee (Secretariat: Bicycling Popularization Association of Japan)
Race Supervisor
Japan Cycling Federation
Title Sponsor
NTN Corporation
Official race site
http://www.toj.co.jp/
Official race logo
Race Schedule

May 20 (Sun) to 27 (Sun), 2018

May 20 (Sun)

Sakai Stage (Osaka Prefecture)

May 21 (Mon)

Kyoto Stage (Kyoto Prefecture)

May 22 (Tue)

Inabe Stage (Mie Prefecture)

May 23 (Wed)

Mino Stage (Gifu Prefecture)

May 24 (Thu)

Minami-Shinshu Stage (Nagano Prefecture)

May 25 (Fri)

Fujisan Stage (Shizuoka Prefecture)

May 26 (Sat)

Izu Stage (Shizuoka Prefecture)

May 27 (Sun)

Tokyo Stage (Tokyo Prefecture)
Outline of the NTN Rotating Workshop
Name
"NTN Rotating Workshop"
Details

Seminars and content providing active learning about bearings and sustainable societies will be run at each stage venue. The workshop content will provide the upcoming generation of children a fun way to play and learn about energy-saving technologies used to developed sustainable societies, such as bearings that help to reduce friction.

Last year, content at workshops for learning about the environment included hands-on bearing assembly sessions, playing with "Hurricane Spinner" made with two connected steel balls of bearings, and wind turbines made from paper cups. Different contents from last year are being planned for this year. The contents will be designed for anyone to join in and have fun, from children to people, locals and cycling enthusiasts alike.

Participation

Individual participants can visit the stage directly.

Schools, educational institutions and organizations involved in teaching the upcoming generation of children are also welcome to join. Interested educational organizations are advised to contact the 100th Anniversary Planning & Promotion Project (Please use this form for inquiries).
Inquiries about this release