NTN Renews Package Design for Precision Rolling Bearings

October 18, 2017
NTN Corporation (hereafter, NTN) has renewed the package design for Precision Rolling Bearings used on such as machine tools with the aim of improving customer convenience and the NTN brand.
The new package design uses black for the base color and emphasizes the NTN brand in blue, which is its corporate color. The product label on the package also incorporates measures against counterfeit bearings*1 and displays detailed measurement values so that the package does not need to be opened to check the contents. Furthermore, it is also possible to read product data, such as the inspection precision, using a QR code*2. The new design will be applied to precision rolling bearings produced from October 2017, starting with those produced in Japan, and then also applied sequentially to products produced overseas in such as Germany.
For the "Expand Aftermarket Business," one of the main themes of the "NTN 100" our Medium-term Management Plan started from April 2015, NTN has been strengthening the brand to expand our business through various measures that include strengthening relations with the customer through engineering services, creating an immediate delivery system and enhancing our product lineup. NTN will continue with the goal of being a brand that can further earn the trust of customers and promote all of the measures and initiatives.
April 12, 2017 Press Release:
"Strengthening Measures Against Counterfeit Bearings for Customer Safety and Assurance"
https://www.ntnglobal.com/en/news/press/news201700029.html
QR code is a registered trademark of Denso Wave Incorporated.
Features of the new design
Improved brand strength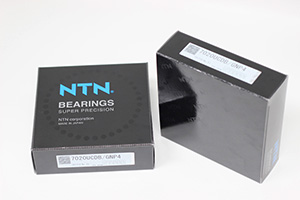 Emphasizes the NTN brand using blue, the corporate color, with a high quality design on a black background
Improved convenience

No need to open the package to check because detailed measurement values are shown on the product label
Data such as inspection precision can be read using a QR code
Improved durability by changing the package material and construction
Uneven surface of the box reduces fingerprints and oil stains
Includes counterfeit measures
Inquiries about this release