NTN Supports Junior Summit and Provides EVs to Kuwana City in Mie Prefecture

February 15, 2016
NTN Corporation (hereafter, NTN) has provided an electric vehicle (EV) equipped with NTN's drive system to Kuwana City, the main event site of the "2016 Junior Summit in Mie".
NTN was established in Kuwana City, Mie Prefecture in 1918 and has grown with the local community to become a global company. With such a history, NTN is providing support to the "Ise-Shima Summit" that will be held in Mie Prefecture*. The Junior Summit will be held as an international exchange event related to the "Ise-Shima Summit," featuring junior and senior high school students mainly from G7 countries (Japan, Canada, France, Germany, Italy, UK, US) discussing global issues. Following on from Chitose City in Hokkaido in 2008, this will mark the second time that the Junior Summit will be held in Japan, scheduled from April 22 to 28 with Kuwana City as the main event site.
A delivery ceremony was held at the Kuwana City Office on January 25, where Kuwana City Mayor Ito was handed the key of the EV from NTN. Mayor Ito expressed his appreciation, stating "We will use the EV wherever possible for events related to the Junior Summit, both for work purposes as well as publicity."
NTN provided the converted electric vehicle (EV) that was used previously as part of a demonstration drive in Kuwana City. The EV will feature exterior styling to promote the Junior Summit, and in addition to publicity will also be used as a mode of transport by members of the Kuwana City Junior Summit Promotion Section. Another two EVs equipped with the In-wheel Motor are also planned to be provided in April.
NTN will continue contributing to regional development through activities that provide support to the Summit.
* NTN Provides Support for "Ise-Shima Summit" and Donates Street Light to Mie Prefecture (November 26, 2015)
https://www.ntnglobal.com/en/news/press/news201500090.html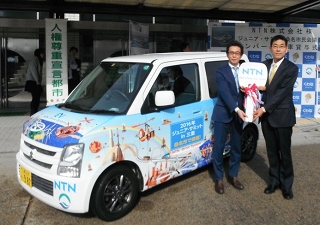 Handing the key to Mayor Ito (left) at the delivery ceremony
Reference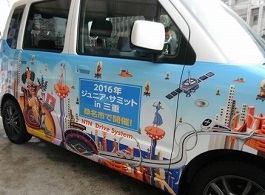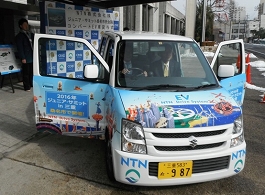 Features of the Onboard Two Motor Drive System

| | |
| --- | --- |
| (1) | Better driving stability with independent left/right drive system, and simple modification of existing vehicle suspension setups |
| (2) | Increase in electrical efficiency with efficient use of regenerative braking |
| (3) | Includes a drive system that contains an inverter, together with a driveshaft and hub bearing |
| (4) | Vehicle stability control system linked to sensor information |
| (5) | Basic specifications |
| Maximum speed | 110 km/h |
| Cruising range | 100 km |
| Recharging time | 4 h (200 V) |

The Onboard Two Motor Drive System
(1 wheel in front)
Inquiries about this release