NTN Provides Converted EV Equipped with Proprietary Drive System to Kuwana City

October 31, 2013
[Used as official city vehicle as well as by citizens, chamber of commerce and tourism to collect driving data]
NTN Corporation (hereafter, NTN) provided a converted electric vehicle (converted EV*1) powered by the "Onboard Two Motor Drive System," the world's lightest class motor unit with integrated reducer, to Kuwana City in Mie Prefecture on October 27, marking the beginning of a demonstration project.
A delivery ceremony was held on the same day at the "Kuwana Environmental Festival" at the Kuwana City Hall, where the key to the converted EV was delivered from NTN to Kuwana City Mayor Ito. Mayor Ito expressed his gratitude by stating "Kuwana City is aiming to create a new urban concept with its energy policies. Being provided with a converted EV gives us an opportunity to think closely about energy, and I hope that Kuwana becomes a Smart Energy City that is environmentally friendly."
The provided vehicle is a converted vehicle powered with the world's lightest class motor unit with integrated reducer mounted on each left and right wheel to the vehicle itself (onboard). Independent left and right control of the motor power ensures more reliable drive power even on slippery road surfaces, and provides outstanding driving safety. Efficient use of regenerative braking is also being used to increase fuel efficiency (electrical efficiency). The demonstration project aims to collect various types of data such as actual ride comfort and electrical efficiency to be applied to future technical development.
As a local company based in Kuwana City, NTN participated in this initiative as part the "Kuwana City Smart Energy Program" being implemented by the city. This concept aims to "utilize energy effectively" and includes the introduction and promotion of next-generation vehicles as one of its major policies. By providing a converted EV, NTN is taking a role by contributing to the faster popularity of next-generation vehicles. The converted EV will not only be used as official city vehicle, but also for city events the vehicle made available for the first time*2 by the municipality to citizens and the community for short-term use, as well as for leisure activities around tourist locations over the next 1 year and 5 months.
NTN has utilized the technology it has gained through research and development into bearings, as well as maximized the strength of the world's No. 1 share in hub bearings to advance development of various system products for next-generation vehicles. Repeated tests have been conducted since beginning demonstration tests on public roads in Shizuoka Prefecture from October 2011. In August 2013, a commuter EV acquired a light vehicle registration number in Shizuoka Prefecture under the concept of a microcompact mobility, and in October the same year, an EV certified as a microcompact mobility began a demonstration project in Ise City, Mie Prefecture. These will help accelerate development of cutting-edge technology, while also promoting activities designed to popularize the EV and next-generation vehicles more quickly.
*1 Converted EV refers to a modified EV with a motor replacing the ordinary internal combustion engine and batteries mounted onboard.
*2 First time a converted EV had been lent to a government organization
NTN Chairman Suzuki (right) handing
Kuwana City Mayor Ito (left) the key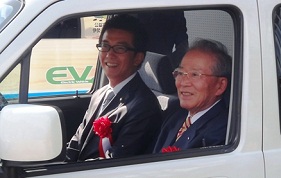 Mayor Ito and Chairman Suzuki on a test drive
[ Reference ]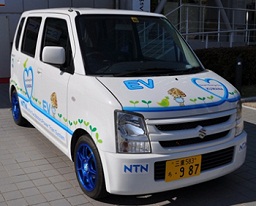 Converted EVs provided to Kuwana City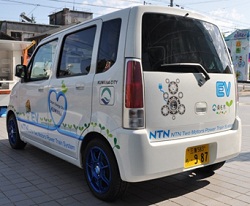 Features of the Onboard Two Motor Drive System

(1)
Better driving stability with independent left/right drive system, and simple modification of existing vehicle suspension setups
(2)
Increase in electrical efficiency with efficient use of regenerative braking
(3)
Includes a drive system that contains an inverter, together with a driveshaft and hub bearing
(4)
Vehicle stability control system linked to sensor information
(5)
Basic specifications
Maximum speed
110km/h
Cruising range
100km
Recharging time
4h(200V)

The Onboard Two Motor Drive System
(1 wheel in front)
Layout of the onboard two motor drive system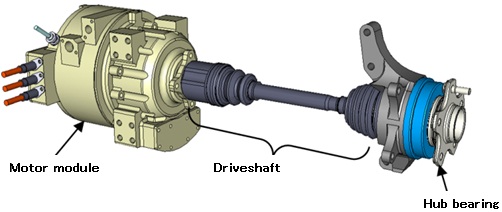 Inquiries about this release