EV Equipped with the In-wheel Motor Acquires First Registration of "Microcompact Mobility" in Japan

October 29, 2013
[Mie Prefecture certified by Ministry of Land, Infrastructure, Transport and Tourism, start of operation in the area]
NTN Corporation (hereafter, NTN) hereby announces that the two-seater electric vehicle (EV) equipped with the In-wheel Motor System developed by NTN has acquired the first registration number of "Microcompact Mobility" in Japan.
Mie Prefecture, which has been developing a low-carbon society together with the local community through the use of EVs and other modes of transport, submitted an application to the Ministry of Land, Infrastructure, Transport and Tourism to utilize EVs equipped with NTN's In-wheel Motor System in Ise, Kuwana and Tsu cities etc. as areas of operations. The first certification for the microcompact mobility was received from the Director of the Chubu District Transport Bureau, making this the first microcompact mobility in Japan to be powered by the In-wheel Motor System.
The microcompact mobility is a two-seater vehicle that is more compact than a light vehicle with sharper turning capabilities, is environmentally-friendly, and has been proposed as a convenient form of transportation for the local community. It is hoped that it will take on the form of a new category of vehicle to improve quality of life and transportation. A certification system was established in January this year that utilizes easing of standards based on the Road Transport Vehicle Act.
This system is certified by the Director of the District Transport Bureau and places a priority on ensuring safety, with driving on public roads permitted under the condition that (1) vehicles are not used on expressways, and (2) vehicles are driven in areas where traffic safety provisions are in place.
Following certification by the Director of the Chubu District Transport Bureau for the microcompact mobility equipped with NTN's In-wheel Motor System, operations first started in five prefectures in the Chubu region (Aichi, Shizuoka, Gifu, Mie and Fukui prefectures). Of the total of five vehicles that received certification, one was provided* to Ise City in Mie Prefecture for use as an official city vehicle, as well as others for use by council members of the Ise Chamber of Commerce and Ise City Tourist Association, and for driving on model tourist courses. In the run-up to receiving the registration number, the microcompact mobility was displayed at the "Ise City Environmental Fair" and is also planned to be used in a range of community events into the future, such as "Ise Marketplace" and "The Ise Marathon."
Providing the microcompact mobility equipped with the In-wheel Motor System not only allows NTN to contribute to energy-saving and low-carbon initiatives as well as tourist and community development programs, but also helps to increase activities designed to popularize EV system products more quickly through public road demonstration projects.
*"EV provided to Ise City, Mie Prefecture": Press release
https://www.ntnglobal.com/en/news/press/news201300075.html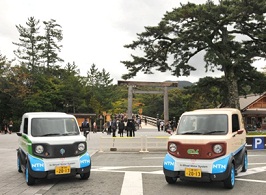 Microcompact mobilities with acquired registration numbers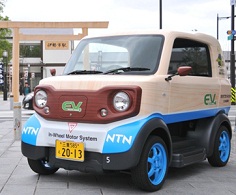 One mobility with a woodgrain design provided
to the Ise City Tourist Association
Inquiries about this release