Demonstration test of world's first "In-wheel Motor System" for converted EVs completed successfully

February 4, 2013
NTN Corporation (hereafter, NTN) announces that it is the first company in the world to successfully complete a social demonstration test of the In-wheel Motor System for modified electronic vehicles (converted EV*1), with the cooperation of Iwata City*2 in Shizuoka Prefecture, Japan.
A briefing meeting was held at Iwata City Hall on January 17 outlining the results of the test drives of the two converted EVs used for the demonstration test, which was held over approximately one year from October 2011. The test vehicles were used as official vehicles *3 and driven for short distances around Iwata City such as urban and residential areas, as well as on expressways to acquire data and information on motor output and speed required for the commercialization of the In-wheel Motor System. The total distance driven was 11,104 km, with the maximum distance driven on a single charge being 95 km. The fuel cost per km was 1.6 yen, approximately 1/5th that of a gasoline-powered vehicle.
A lot of valuable data was acquired on issues related to the In-wheel Motor System from the vehicles used in social demonstration test, including ride comfort and operating noise while driving. The results obtained from in-house tests will be combined with information acquired when the vehicles were actually driven on roads. We will improve development of the products and reduce the development time period by applying this data to the EV business.
Vehicles used in the demonstration test consisted of two converted EVs, one equipped with the "In-wheel Motor System" mounted within the wheel (in-wheel) of the world's lightest motor unit with integrated reducer, and the other developed with the "Onboard Drive System" unit mounted to the vehicle frame (onboard).
The vehicles made an appearance at a number of events, including "test drives at the EV Summit*4", "the lead car for the Jubilo Marathon" held in Iwata City and "the New Tomei Expressway Opening Ceremony" as part of initiatives to promote new industry in Iwata City and encourage the uptake of environmentally-friendly electric vehicles.
NTN is planning another demonstration test for electric commuters (two-seater compact EVs) equipped with the "In-Wheel Motor System for Compact EVs" as part of the "Ultra-compact Mobility Certification System" being examined by the Ministry of Land, Infrastructure, Transport and Tourism. Various initiatives will be taken with the cooperation of Shizuoka Prefecture and Iwata City to increase the spread of next-generation EVs.
*1Converted EV refers to a modified EV with a motor replacing the ordinary internal combustion engine and batteries mounted onboard.
*2Iwata City demonstration test press release
*3The official vehicle provided for use by Iwata City for this demonstration test was manufactured by Tajima Motor Corporation Co., Ltd, a company based in Iwata City that is involved in the development of EVs.
The two converted EVs that drove in the demonstration test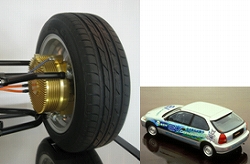 The In-wheel Motor System and test vehicle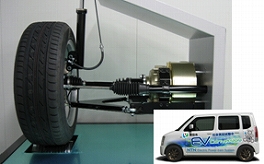 The Onboard Drive System and test vehicle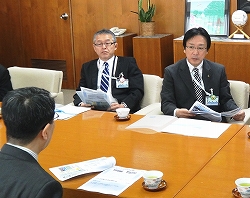 Scene from briefing meeting
(photo right: Iwata City Mayor Watanabe)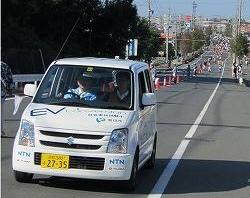 Converted EV leading the marathon runners
Two-seater electric commuter planned for demonstration tests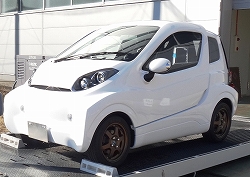 Two-seater electric commuter equipped with the In-wheel Motor
Inquiries about this release