Intelligent In-Wheel Motor System Wins Grand Prix at EMM2012

July 13, 2012
NTN Corporation (hereafter, NTN) participated at "European Mechatronics Meeting (EMM) 2012" held in Haute-Savoie, France for two days from June 6, where NTN's Intelligent In-Wheel Motor System won the Grand Prix of Mechatronics Award.
Both NTN and NTN-SNR*1 ran a booth EMM2012 to exhibit EV system products and provided a technical presentation. The Intelligent In-Wheel Motor System on display was highly praised for the innovative mechatronics technology that has been included to control the motor, reducer, inverter, electric brake and various sensors, and was unanimously selected by the judging panel for the Grand Prix.
The booth featured dynamic displays of products such as the "One Motor Type Electric Vehicle Drive System*2," "In-Wheel Motor System for Compact EVs*3" and various sensor technology. The special display area set up in the entrance had on show a "two-seater compact EV" equipped with the In-Wheel Motor System for Compact EVs, and the concept car "Q'mo*4." Demonstration tests of the "Q'mo" highlighted the potential of cars equipped with the In-Wheel Motor, including "lateral move" and "pivot turn."
EMM2012 was an international meeting in the field of mechatronics organized by Thesame, a public industrial support organization based in Haute-Savoie. This year's meeting attracted approximately 300 participants from 20 companies both inside and outside of France with the theme of "Mechatronics is going green," and featured displays of mechatronics technology and conferences related to environmental conservation such as natural energy, EV, HEV and other fields.
NTN will focus on faster development of EV system products globally, including in the European market where the popularity of EVs continues to rise, and also on further activities into the future to increase the spread of next-generation EVs.
*1 Abbreviation for NTN-SNR ROULEMENTS. Became a consolidated subsidiary of NTN in April 2008.
*4 Exhibit at the 2011 Tokyo Motor Show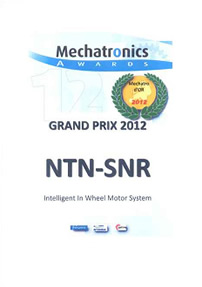 The "Grand Prix" of Mechatronics Award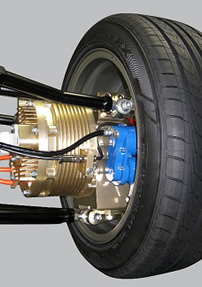 The Intelligent In-wheel Motor System that won the Grand Prix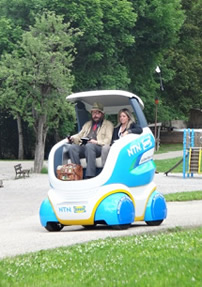 Scene of "Q'mo" in demonstration tests