NTN Achieves High Speed Rotation Supporting dmn Value of 2.2 Million with Deep Groove Ball Bearings for EVs and HEVs

May 19, 2022
NTN Corporation (hereafter, NTN) has achieved high speed rotation supporting dmn value*1 of 2.2 million under oil lubrication with high speed deep groove ball bearings for e-Axle drive systems for EVs, and motors and transmissions for HEVs.
In recent years, various industries have been developing technologies to reduce CO2 emissions towards achievement of carbon neutrality. Automotive industry is facing fuel efficiency standards and CO2 emission regulations becoming strict in various countries. Under these circumstances, it is urgent task to develop battery-powered electric vehicles that are driven by electric drive units instead of gasoline engines and diesel engines.
Electric drive units are required to achieve low friction, downsizing, and weight reduction towards energy and electricity savings. To meet these requirements, development of drive units such as e-Axle which integrate motors with inverters and gearboxes has been accelerating. Along with this trend, bearings for motors and gearboxes, which are becoming compact and high speed, are required to have excellent high speed rotational performance that suppresses heat generation and damage when rotating at high speed.
NTN has been tackling the need for high speed rotation, and developed "Grease Lubrication Type High Speed Deep Groove Ball Bearing" for EV/HEV*2 in 2015. This product achieved high speed rotation by enhancing strength of retainers through reviewing material formulation, and improving pockets' profile where retainer and rolling elements have direct contact, minimizing deformation caused by centrifugal force. The product is also applicable even under oil lubrication and demonstrated its outstanding high speed rotational performance. As these features are highly evaluated by customers, NTN has been expanding mass-production and supplying various automotive manufactures with the product.*3 *4
In order to apply bearings for ultra-high speed towards further high rotational speed motors, it is necessary to enhance rotational accuracy of bearing components, as well as optimizing oil lubrication including supply method and quantity. These are additional factors to existing measures for problems such as deformation due to centrifugal force and insufficient strength of retainer.
NTN has established a calculation method for optimum oil lubrication to balance heat generation of bearings and heat removal of lubricant oil. Furthermore, retainer profile with less deformation by centrifugal force and optimized bearing internal specifications allowed NTN to achieve high speed rotation supporting dmn value of 2.2 million with deep groove ball bearings.
With these method that NTN has established to manage both heat generation and heat removal, NTN can propose bearing specifications with optimum bearing to support high speed rotational performance that matches needs of each automotive manufacturer.
With the spread of EVs and HEVs in the automotive market, demand for bearings capable of high speed rotation is expected to further expand. NTN will continue to bring the high speed deep groove ball bearings to the market, contributing to the electrification of automobiles as well as saving electricity and fuel consumption.
dmn value: An indicator that expresses the rotational performance of bearings and is multiplied bearing pitch circle diameter (mm) by rotational speed (min-1)
Press Release on March 4, 2015:
Development of "Grease Lubrication Type High Speed Deep Groove Ball Bearing" for EV/HEV
https://www.ntnglobal.com/en/news/new_products/news201500013.html
Press Release on September 2, 2020:
NTN Expands Mass-Production and Delivery of High Speed Deep Groove Ball Bearings for EVs and HEVs
https://www.ntnglobal.com/en/news/new_products/news202000046.html
Press Release on October 22, 2021:
NTN Receives Nippon Brand Award of 2021 "CHO" MONODZUKURI Innovative Parts and Components Award
https://www.ntnglobal.com/en/news/press/news202100069.html
Features
Limiting rotational speed: Achieve industry-leading high speed with dmn value of 2.2 million*5
Same assembly dimensions as standard type bearing (can be used for replacement)
according to NTN's testing conditions
Product Photo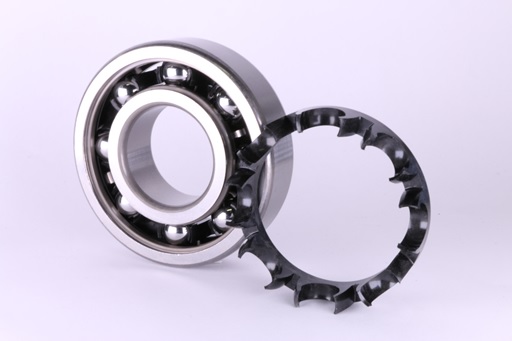 Inquiries about this release