Development of Needle Roller and Cage Assembly for Planetary Gear

May 26, 2021
Reviewed shape of roller crowning and material of cage to meet severe usage condition
NTN Corporation (hereafter, NTN) has developed a needle roller and cage assembly for planetary gear with high speed rotation performance, long operating life, more quietness for planetary gears used in automotive automatic transmissions (hereafter, AT).
In recent years, ATs have become increasingly multi-stage to lower fuel consumption of automobiles. Due to the changes to multi-stage design of ATs, needle roller and cage assemblies for planetary gears are required to adapt to the high speed rotation. Additionally, as the number of components in AT increases due to the changes to multiple stages, each component including needle roller and cage assemblies becomes smaller and lighter to reduce total weight of AT. As a result, needle roller and cage assemblies are subjected to high loads in order to output same level torque as that of conventional AT. Furthermore, in order to reduce the rotational resistance of each component in AT to save energy, the oil within AT tends to be reduced in viscosity and the usage conditions of needle roller and cage assemblies is becoming increasingly severe.
The newly developed product adopts "welded cage with carburized steel*1" and "new crowning*2 roller for high load" to respond to such severe operating conditions.
The cage is composed with carburized steel with higher strength than the conventional special low carbon steel so that it improves fatigue strength to enhance high speed rotation performance by approximately 10% compared to conventional product.
As for roller, the roundness of crowning is enhanced to stabilize movement of rollers when rotating. It enables the developed product to lower noise level by approximately 8% compared to conventional product, meeting the needs of EV that requires more quietness. Optimizing crowning shape also suppresses increased contact stress and edge stress even inclination, and improves surface initiated damage life under severe lubricating conditions.
NTN will contribute to low electricity and fuel consumption of vehicles through providing the developed product which contributes to multi-stage, miniaturization and weight reduction of ATs.
NTN will exhibited this product at "AUTOMOTIVE ENGINEERING EXPOSITION 2021 ONLINE," which will be held from May 26 to July 30.
Case hardening steel with carburization heat treatment
To make inclination of several microns from rolling surface to chamfer of rollers to reduce edge stresses that occur at the border of the chamfer and rolling surface.
Features (compared to conventional product)
1. High speed rotation performance
Improved by approximately 10%
Improve fatigue strength by adopting carburized steel for cage
2. Long operating life
Reduce contact stress by optimizing crowning shape of rollers
Improve surface initiated damage life under severe lubrication conditions by suppressing increased contact stress and edge stress even under inclination
3. Quietness
Approximately 8% quieter (under inclined conditions)
Stabilize movement by improving roundness of roller crowning.
Application
Planetary gears for AT and CVT, gearboxes for EVs, etc.
Product photo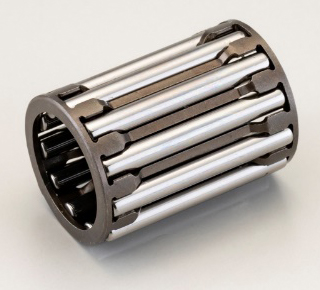 Applied parts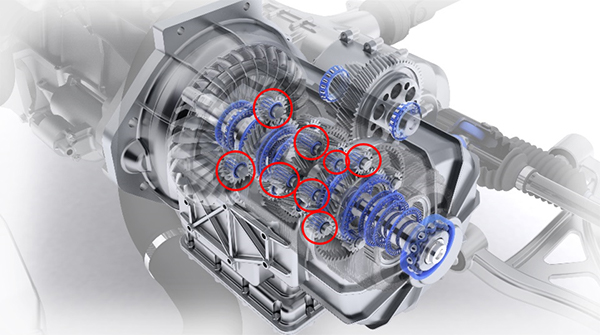 Automatic transmission (AT)
Inquiries about this release