NTN Improves Reliability of Tenter Clip Bearing for Film Stretching Machines

March 31, 2021
Contribute to improved productivity of plastic films by improved grease leakage resistance and durability
NTN Corporation (hereafter, NTN) has developed the Tenter Clip Bearing for Film Stretching Machines with low torque, greatly improved grease leakage resistance, and durability achieved by reviewing retainer and grease.
Trend in plastic film market is robust, particularly in packing applications. Recently, with the increase of interest for the environment in the society, demand for the environmentally friendly film that uses bioplastics and recycled materials, and barrier films that help reduce food loss is growing. In the electronics field, plastic films with excellent heat resistance are used for applications such as flexible printed circuits, which are essential to smartphones and liquid crystal displays.
The film stretching machine is an equipment that heats and conveys plastic film while stretching it thinly. The tenter clips run on the rails by grasping both ends of the film, and several bearings are used as guide rollers in the tenter clips.
The number of bearings used for tenter clips of a film stretching machine amounts to several thousand to several tens of thousands per unit, depending on the overall length of the machine. Therefore, frictional loss and running cost due to replacement should be suppressed, and bearings are required to have low torque and excellent durability. In addition, the running speed of tenter clips tends to be faster to improve productivity. Generally, grease inside a bearing tends to leak at high speeds and high temperatures, resulting in pollution of films and unexpected maintenance. Therefore, bearing grease is required to have excellent leakage resistance.
The newly developed bearing for tenter clips uses "non-contact seals," the "newly developed retainer" with an expanded inner diameter to improve grease retention, and "long operating life grease" with excellent heat resistance. With such improvements, the developed product has all achieved lower torque, reduced grease leakage, and improved seizure resistance. It achieves 70% reduction in grease leakage and 40% improvement in seizure resistance with the same low-torque performance as the conventional product (non-contact seal type bearing).
The newly developed product is applicable in a wide range of stretching temperatures, from general-purpose plastic films to engineering plastic films with a lineup of medium-temperature range (capable of bearing temperatures up to 230°C) and high-temperature range (capable of operating at temperatures up to 300°C).
NTN will propose this product to customers of stretching machine manufacturers, clip manufacturers, and plastic film manufacturers to contribute to improving the productivity of plastic films and reducing the running cost of film stretching machine.
Features
Compared to the conventional product (non-contact seal type bearing)
| | |
| --- | --- |
| 1. High reliability | Grease leakage reduced by 70% |
| 2. High durability | Seizure resistance improved by 40% |
| 3. Low torque | Equivalent (bearing rotational torque is 1/4 of contact seal type bearing) |
Application
Guide rollers for tenter clips of film stretching machine
Inquiries about this release
Product photo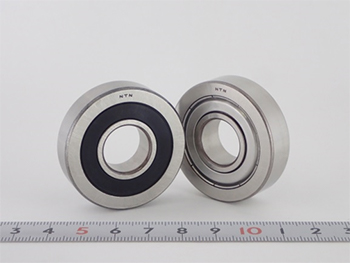 Structure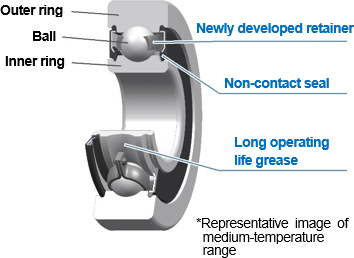 Applications: tenter clips of film stretching machine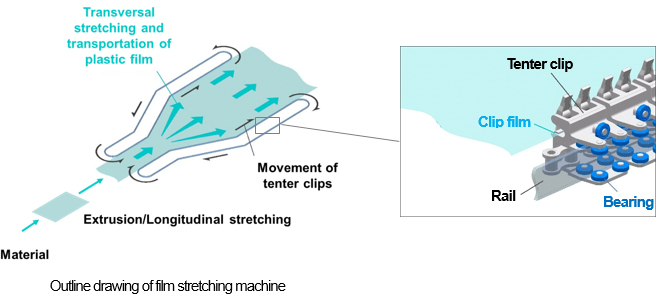 Compared with conventional product