NTN Starts Mass-Production and Delivery of "ULTAGE Tapered Roller Bearing for Automotive Application"

October 16, 2020
Contribute to improvement in fuel efficiency by the world's highest level in high speed rotational performance and high load capacity
NTN Corporation (hereafter, NTN) has started mass-production and delivery of the "ULTAGE*1 Tapered Roller Bearing for Automotive Application"*2 developed for automotive transmission and differentials.
Power transmission devices such as transmissions and differentials are becoming smaller and lighter due to fuel efficiency saving of automobiles. As a result, the usage conditions of bearings for the devices are also increasingly severe.
As the output power of the devices is increasingly higher in order to maintain the same torque as before by smaller and lighter devices, bearings need to realize high speed rotational performance. Additionally, aluminum housings used to reduce weight are less rigid than conventional steel housings and lead to uneven load for bearings. To ensure bearing operating life under these harsh usage conditions, high load capacity is also required to bearings.
Through improvement in both internal bearing design and grinding process for years, NTN has been providing automotive market with tapered roller bearings which boast excellent low temperature performance rise (capability for protection against seizing). The "ULTAGE Tapered Roller Bearing for Automotive Application," which received orders for mass-production this time, has achieved the world's highest level in high speed rotational performance and high load capacity that exceed conventional product realized by NTN's proprietary roller (rolling element) design, in addition to low temperature rise performance. The roller design of the product minimizes contact surface pressure of the raceway and suppresses the temperature rise of the cone back face big rib surface. This improves rolling fatigue life and the basic dynamic load rating representing high load capacity by 1.2 times, 1.8 times or more for bearing operating life, and approximately 10% for permitted rotational speed compared to conventional products.
After NTN announced the development of this product in 2017, the product received high reputations from specialized agencies such as receipt of "Mobility Components Award" of "'CHO' MONODZUKURI Innovative Parts and Components Award" sponsored by MONODZUKURI. Nippon. Conference and Nikkan Kogyo Shimbun, Ltd. in the same year*3, and NTN has been continuing proposals of this products for customers. NTN has received orders for mass-production, as customers evaluated the product's features: long operating life that leads to realize small transmissions (shorten length of axis) and excellent low temperature rise performance.
NTN starts the mass-production from the certain sizes and plans to expand the product sequentially.
NTN will contribute to the development of automotive market by flexibly responding to the changing needs of automotive market through proposing and providing component technologies of NTN's products, making full use of our tribology technologies.
ULTAGE is the name for NTN's new generation of the world's highest standard of bearing series, and expresses the "ULTIMATE" performance on any type of "STAGE".
Press release on May 18, 2017: Development of "ULTAGE Tapered Roller Bearing for Automotive Application"
https://www.ntnglobal.com/en/news/new_products/news201700039.html
Press release on October 26, 2017: NTN Receives the 2017 "CHO" MONODZUKURI Innovative Parts and Components Award, Automotive Components Award
https://www.ntnglobal.com/en/news/press/news201700104.html
Features (Compared with conventional product)
| | |
| --- | --- |
| 1. World's highest standard high-load capacity | 1.2 times basic dynamic load rating*4 |
| 2. Long operating life | 1.8 times or more bearing rated life*4 |
| 3. World's highest level in high-speed rotational performance | approximately 10% increase in permitted rotational speed |
Calculated based on "Ball and Roller Bearings Catalog" published in 2020
https://www.ntnglobal.com/en/products/catalog/en/2203/index.html
Inquiries about this release
Product photo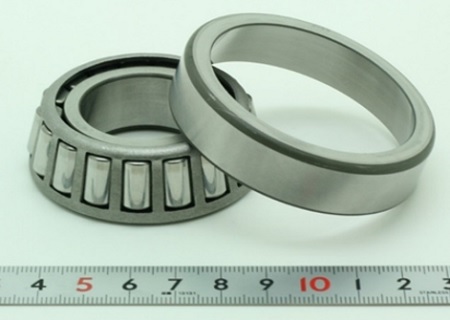 Bearing structure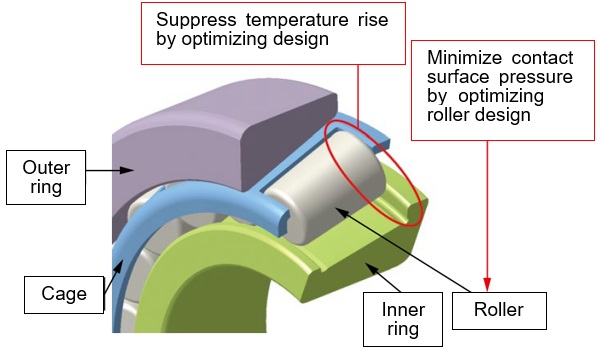 Examples of applications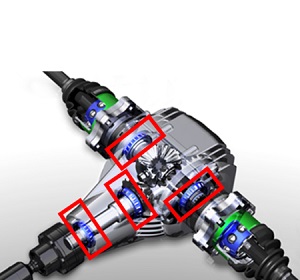 Rear differential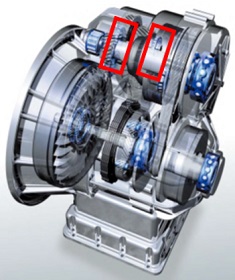 CVT
Comparison with conventional product
Long operating life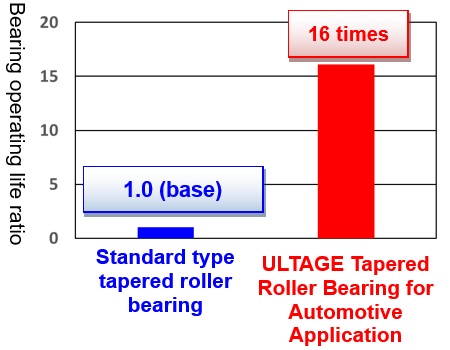 Test results of bearing operating life under clean-oil conditions
with excessive position error (misalignment)
Low temperature rise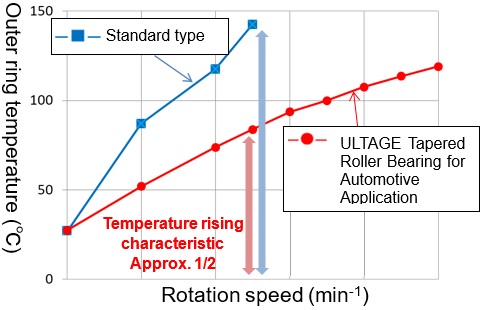 Test results of low temperature rise
(Test for capability for evaluating protection against seizing)