Development of "Handy Type Failure Detection Device II" Ideal for Preventative Maintenance

November 1, 2018
More compact design and shorter measuring times contribute to improve productivity
NTN Corporation (hereafter, NTN) has utilized its extensive knowledge for bearing diagnosis and vibration analysis technology to develop the "Handy Type Failure Detection Device II." This new device is easy to operate and can detect abnormalities in bearings.
In 2014, NTN had developed the "Handy Type Failure Detection Device*1," a vibration measuring device that can measure, analyze, and display results on vibration data by using Android devices. This technology was proposed to customers, and although it was received favorably, NTN has received various requests for improvement of operability, a more compact design, and resistance for dust and water under operating condition as the device expands into the market.
The conventional device has a separate unit which connects the main unit and accelerometer with a cable, but the new device improves its operability and becomes compact by unifying main unit and accelerometer. The new device has also been designed to be dust and water resistant, so it can even be used close to equipment under the condition that coolant and particles splatter. The new device can also be charged via USB cable, allowing it to perform measurements over long periods of time.
The new device is the first device which is compatible with iOS in failure detection device of Japanese manufacturer. The measured vibration data is sent to an iOS smart device with dedicated application. This application has variety functions such as OA*2 and FFT*3 analyses to determine whether a bearing is working normally or abnormally, and to identify damaged parts if a bearing is working abnormally. A single measurement with new device takes only 1/10 times compared with conventional device due to the optimal design of its wireless communication components and other factors. The new device can also save measurement results internally, so the function that displays measurement history on the graph can be used to view the status of equipment continually.
NTN will strengthen diagnostic technological services as well as variety of tools for diagnosing and analyzing of bearings along with development and supply of high-quality and highly functional bearings and also expand service and solution business by proposing technologies to prolong the total life cycle of equipment, reduce downtimes, and improve productivity.
This new device will be shown at the "29th Japan International Machine Tool Fair (JIMTOF2018)" which will be held at Tokyo Big Sight later this year from November 1 to 6.
Development of "Handy Type Failure Detection Device":
February 21, 2014 Press Release
https://www.ntnglobal.com/en/news/new_products/news201400009.html
OverAll total value of frequency component amplitude for each vibration (acceleration, speed, displacement)
Technique that uses FFT (Fast Fourier Transform) to request a frequency spectrum to analyze/break down incoming signals
Features
1. Compact
Accelerometer, power, and wireless communication components have all been unitized
2. Easy Measurements
Smartphones and tablets that support iOS can measure vibration data
3. Determines Abnormalities
Can determine whether a bearing is working normally or abnormally through OA and FFT analysis
Measurement history graph display can be used to continuously view condition of equipment
4. Dust and Water Resistant
IP65 enclosure
Applications
Electric motors (elevators), paper manufacturing machines, plant equipment, machine tools, general production machine equipment maintenance, shipment inspection, portable device for service personnel
Inquiries about this release
Product Photo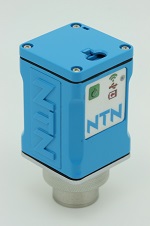 Handy Type Failure Detection Device II
<Dimensions>
Approximate width/depth/height:
50mm × 50mm × 90mm
Examples for use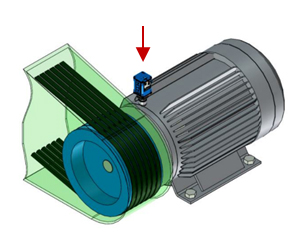 Motor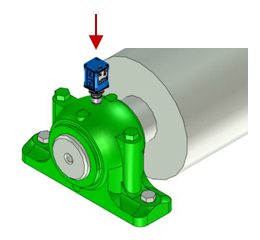 Support bearings for conveyer