Development of "Low Friction Hub Bearing II" Reducing Rotational Friction by 50%

November 1, 2017
Reduce rotational friction while driving by 50% and improve vehicle fuel efficiency by approximately 0.42%
NTN Corporation (hereafter, NTN) has developed the "Low Friction Hub Bearing II" which reduces rotational friction by 50%, and contributes to the control of greenhouse gas emissions that are becoming severe every year.
Since environmental regulations are continuing to be introduced and regulated more strictly in Japan, the Americas, Europe and emerging countries, demands of fuel efficient vehicles such as hybrid vehicles and electric vehicles (EV) keep growing accordingly. In addition emphasis is being placed on reducing energy while vehicle is driving, and there is a demand to further reduction for rotational friction in order to get better efficiency for fuel and electric consumption even for hub bearings that support axle.
NTN has developed a hub bearing that greatly reduces rotational friction compared to conventional products by adopting low viscosity grease for seal, improving the sliding surface of seal and low friction grease for bearing, and has been developing a market for the product.
By redesigning the seal structure and optimizing the shape, NTN has developed the "Low Friction Hub Bearing II" which reduces rotational friction by 50% compared to conventional products without affecting muddy water resistance and improves fuel efficiency of vehicle by approximately 0.42%. It is general to apply three contacted seal lips in order to ensure muddy water resistance, however this developed product has a reduced number of lips that make further low friction. NTN could maintain a high muddy water resistance with creating a labyrinth structure (clearance) in the seal and optimizing seal shape in order to cover expected some reduction of muddy water resistance due to reducing the number of contacted seal lips. The composition and viscosity of grease were also revised, and the grease that contributes to torque reduction is adopted.
The "Low Friction Hub Bearing II" is shown at the "Tokyo Motor Show 2017" held from October 27 to November 5 at Tokyo Big Sight.
Features
Reduce hub bearing rotational friction by 50% (compared to conventional products)
| | |
| --- | --- |
| (1) | Developed and adopted a new type seal structure with labyrinth |
| (2) | Adopted low friction grease (revised composition and viscosity) |
Inquiries about this release
Product photo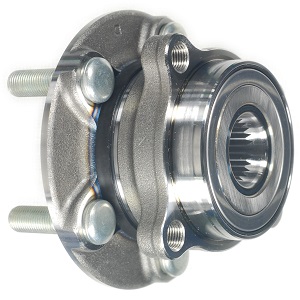 Design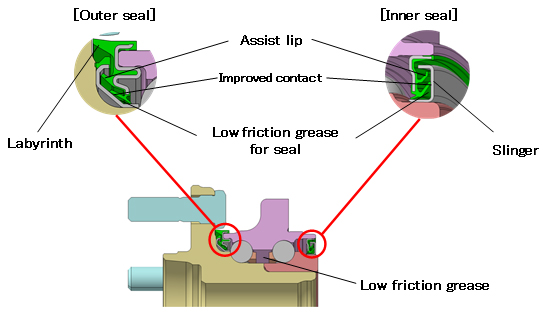 Position where product is used