Development of "ULTAGE Small Size High Speed Angular Contact Ball Bearing for Machine Tool Spindles"

September 27, 2016
For low vibrations and long operating life of small spindles
NTN Corporation (hereafter, NTN) has developed the "ULTAGE* Small Size High Speed Angular Contact Ball Bearing for Machine Tool Spindles" (internal diameter φ10 mm to φ50 mm) that deliver low vibrations and long operating life of small spindles (small main shafts) used for machining small parts and precision machining.
In addition to the basic performance of "high-speed, high-rigidity and high-precision" required for "mother machines," various models of machine tools are constantly being developed in recent years that include new functions and concepts such as "smaller size," "high power output" and "more environmentally friendly" for energy and space saving. Of these, development of low-cost and space-saving smaller machine tools is increasing in emerging countries, and there is also an increase in precision machining for machining small products, parts for medical equipment and other applications. With such industry trends, the demand for small spindle is growing.
Small spindles often feature a structure that feeds compressed air inside for internal cooling and to prevent the intrusion of foreign matter from outside. For bearings filled with grease, some bearings do not come with seals installed, causing the grease may leak from the bearing due to the compressed air, which results in a shorter operating life. Sealed bearings are effective for limiting the amount of grease leaking, however this reduces the amount of compressed air flowing through the spindle. This causes issues related to cooling performance and affects how much foreign matter can be prevented from entering. The newly developed "ULTAGE Small Size High Speed Angular Contact Ball Bearing for Machine Tool Spindles" uses newly designed seal that retains grease within the bearing without affecting cooling or dust prevention performance using compressed air. The seal also improves the amount of grease inside and the flow of compressed air. The grease filling position and amount have also been improved to ensure a longer operating life.
Small spindles also need to have "low vibrations" as they are often used to improve the external appearance of products, such as enhancing machining precision or providing a fine finish on machined surfaces. The developed product is made with machining method that enhances the precision of the bearing raceway surface, to reduce vibrations by approximately 50% compared to conventional products.
NTN will exhibit the developed product at "The 28th Japan International Machine Tool Fair (JIMTOF2016)" to be held at Tokyo Big Sight from November 17 to 22, and will propose it to various machine tool manufacturers and spindle manufacturers for the development of new models.
* ULTAGE is the name for NTN's new generation of the world's highest standard of bearing series, and expresses the "ULTIMATE" performance on any type of "STAGE."
Features
(1) Long operating life
higher sealing performance than NTN's conventional products


High grease retention
(4 times or more than NTN's conventional products)
High-speed durability of more than 6,000 hours
(10 times or more than NTN's conventional products)

(2) Low vibration
50% reduction compared to NTN's conventional products
(when supplied with grease lubrication, fixed-position preload, bearing internal diameter 10mm rotational speed 60000min-1, compressed air within main shaft (0.3 MPa, 30 NL/min))
Applications
Small spindles for machine tools, etc.
Inquiries about this release
Product photo
Bearing internal diameter 10 mm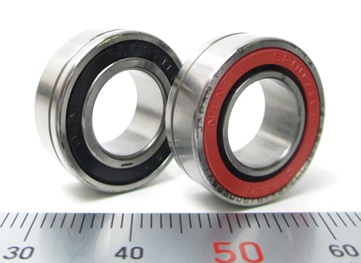 Example of Small Spindle