NTN has received an order to mass produce the "Low Torque Seal Ring" for automotive transmissions

March 28, 2016
NTN Corporation (hereafter, NTN) has received an order to mass produce the "Low Torque Seal Ring" developed for use on automotive transmissions from several automotive manufacturers and automotive parts manufacturers. This is due to the fact that achieving a low torque is valued as fuel efficiency standards for automobiles are increasingly severe.
From four to 10 seal rings are installed on a single transmission between the shaft and housing that move in relative motion within the oil hydraulic circuits. The seal rings serve to seal the oil as they slide. Since friction occurs when they slide, nowadays it has become an issue for the seal rings to be made low torque as one of the parts that affects fuel efficiency.
The "Low Torque Seal Ring" for which we received the current mass production order (it is an injection molded part of width 1.5 mm and outer diameter of 15 to 60 mm) is made from PEEK (polyether ether ketone) plastic featuring a special filler. By forming a V-shaped lubrication groove on the side surface that slides and moves, oil is reliably supplied by the dynamic pressure effect and achieves a low torque that is 60% lower compared to NTN's conventional products. Furthermore, in terms of its seal characteristics, while maintaining the same performance, the amount of wear on the seal ring is 1/10th or less compared to conventional products due to it being low torque.
After announcing* this developed product in 2014, NTN has made proposals for the market, received acknowledgement of its performance from customers and this had led to receiving the order for mass production. In order to increase energy transfer efficiency, multi-staged automotive transmissions that have many gear stages are increasing and there is a tendency to also increase the number of seal rings in use within automotive transmissions it is expected an increase in the demand for this developed product which achieves low torque.
NTN is contributing to improved automotive fuel efficiency through technical proposals with this developed product.
* 2014 Press release
https://www.ntnglobal.com/en/news/new_products/news201400011.html
Features
Compared to conventional products (rectangular cross-section shape)
| | |
| --- | --- |
| (1) Torque | 60% reduction |
| (2) Improved reliability in amount of wear | 1/10th or less |
| (3) Seal properties | Equivalent |
| (4) Compact seal ring width | 30% reduction |
Inquiries about this release
Product photo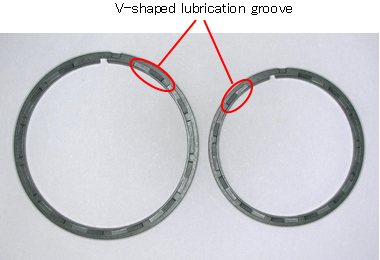 Example of application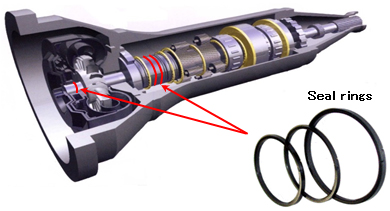 Example of use in automatic transmission
Comparison of features various seal rings