Development of "Two Motor On-board Drive System" for Next-generation EV

October 22, 2015
[Improvements to driving performance with left and right wheels powered by individual motors]
NTN Corporation (hereafter, NTN) has developed the "Two Motor On-board Drive System" as a drive system for next-generation EV (electric vehicles) that powers the left and right wheels with individual motors.
Electric vehicles powered by one motor that are currently increasing in popularity usually distribute drive power from the motor to the left and right wheels via a differential gear. This means the drive power is always equal between the left and right sides, which makes it easier for vehicles to slip on icy roads and other situations.
The Drive System operates using a motor drive unit consisting of two motors and a reducer, and an inverter so that individual motors drive the left and right wheels to achieve torque vectoring*1. This allows the left and right drive power to be controlled properly to suit the vehicle's driving conditions, which contributes largely to driving performance, including steering capabilities and stability on slippery roads. The system can also be mounted to vehicles without having to modify the existing suspension layout, which reduces vehicle development costs when used with existing bodies.
The Drive System adopts NTN's high-precision, long-life rolling bearing technology, ensuring outstanding reliability with the durability of reducers, rotating components of motor and other areas. The system has been modularized with hub bearings and driveshafts, of which NTN enjoys the No. 1 and No. 2 global market share respectively. This makes the system more compact and lightweight, as well as providing customers with the most optimum design, and has been developed as a drive system for next-generation EV that achieves both performance and cost requirements.
NTN will exhibit the developed product at the "44th Tokyo Motor Show 2015" to be held at Tokyo Big Sight from October 29 to November 8.
Control and mechanism for actively distributing drive power to the left and right drive wheels
Features
(1)

Independent control of the left and right wheel drive power improves the vehicle's driving performance

<When control is active>

Reduces yaw rate*2 response delays to approximately 3/5 when driving through slalom
Limits deviation from the target swept path to less than 1/2 when driving on slippery roads

*2) Speed of rotational angle around the vertical shaft passing through the vehicle's center of gravity

(2)
Drive system consisting of hub bearings and driveshafts available as module products
Applications
Electric vehicles, hybrid vehicles, fuel cell vehicles, etc.
(can be used in front-wheel drive, rear-wheel drive and 4-wheel drive platforms)
Inquiries about this release
Photos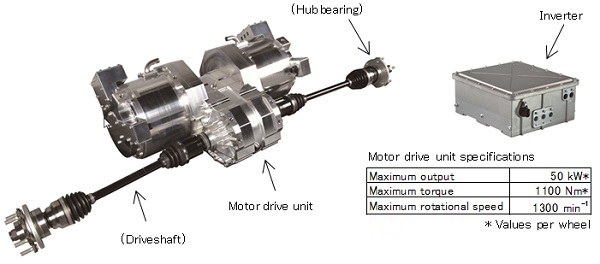 Examples of application

Torque vectoring of vehicles powered with the Drive System

When the vehicle is cornering, distributing more torque to the outer wheels and less torque to the inner wheels makes it easier to turn (limiting understeer), and also limits excessive turning caused by opposing control (oversteer).