Development of the "Monodrive Two-way Feeder with Hopper Feed Function"

November 22, 2013
[Industry first! Integrated hopper and feeder to save on space and man-hours]
NTN Corporation (hereafter, NTN) has developed the "Monodrive Two-way Feeder with Hopper Feed Function" by integrating a scooping-type hopper (tank section) with its proprietary Monodrive Two-way Feeder (hereafter, MD2 Feeder) and thus contributing to production efficiency by saving space and reducing the number of man-hours required for inserting parts.
The MD2 Feeder is a showcase of NTN's vibration parts transportation technology that it has developed until now. An energy-efficient, lightweight and compact parts feeder that delivers optimum control through the phenomenon of resonance and forced vibration, the MD2 Feeder can provide a reliable supply of parts in two directions with a single linear feeder unit.
The newly developed "Monodrive Two-way Feeder with Hopper Feed Function" now features a scooping-type hopper integrated with the MD2 Feeder. This new design reduces installation space by more than 30% compared to the combination of a bowl feeder with separate hopper and linear feeder, and also reduces power consumption to less than 1/3 for more effective use of space and as well as saving energy. The scooping-type hopper can store three to four times the number of parts within the hopper transportation section compared to conventional products, and a low work input position helps to reduce the work load required to input parts.
The developed product that integrates a scooping-type hopper with an MD2 Feeder is an industry first, and it is optimally designed for aligning general purpose parts such as nuts and bolts. A larger line-up will be developed to be used for supplying parts of various sizes.
NTN will continue to develop technology and propose products that meet the various needs of customers in its effort to contribute to the automation of equipment, as well as provide more reliable operation and reduce power consumption.
Features
(1)
Integrates a hopper function with the proprietary-structured MD2 Feede
-
Can transport parts in two directions with a single linear feeder, and also comes with a hopper (industry first)
-
Optimum control of the vibration unit means reliable parts alignment and supply
(2)
Space efficient and low power consumption (compared to a bowl feeder and hopper combined with a linear feeder)
-
30% or more reduction in installation space
-
Power consumption 1/3 or less
(3)
Reduction in input man-hours (labor-saving)
-
Can store 3-4 times the work (parts) (compared to single MD2 Feeder)
-
Low work input position drastically improves input work efficiency
Inquiries about this release
Product photo
Monodrive Two-way Feeder with Hopper Feed Function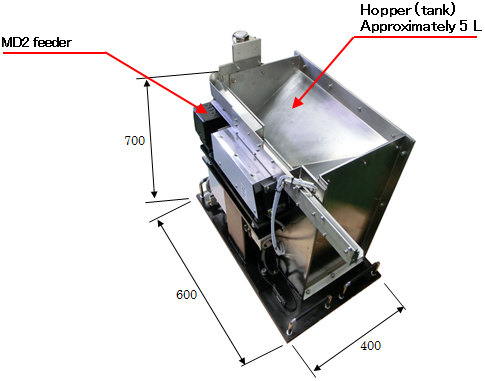 Monodrive Two-way Feeder
The inclusion of a plate spring unit that is able to change the vibration direction means a single linear feeder is can generate vibrations towards both the alignment and supply section, and return section at the same time.