Development of "Hub Joint with Incorporated Advanced Sensor Technology"

February 26, 2013
[World's first! Combined hub bearing with integrated high-performance sensor and CVJ contributing to low fuel consumption (energy charge), safety and comfort of next-generation vehicles]
NTN Corporation (hereafter, NTN) has developed the "Hub Joint with Incorporated Advanced Sensor Technology" which features a hub bearing with NTN's advanced sensor technology joined to a constant velocity joint (hereafter, CVJ) using proprietary fitting technology.
Next-generation vehicles including electric vehicles (EV) and hybrid vehicles (HEV) require a high fuel efficiency with a lighter vehicle weight and improvements to combustion control and battery performance, safety with driving support systems to prevent and avoid collisions, and comfort with greater levels of silence and low vibrations. To achieve this, corner module products*1 that transmit drive power from the engine also need to be designed to be lightweight and compact with high-speed, high-precision sensing technology.
The "Hub Joint with Incorporated Advanced Sensor Technology" developed by NTN includes a "wide-range, high-resolution small sensor" capable of detecting vehicle movements of 1 mm, and a "multi axis load sensor" that reduces the detection response time from the tires down to 1/5th that of other sensors. NTN's proprietary "press-cut spline method*2" has been adopted for the joint between the hub bearing and CVJ, in what is the world's first corner module product equipped with two integrated sensors.
The developed product features a hub bearing and CVJ joined together using the press-cut spline method to achieve a 12% reduction in weight and a high torque transmission ratio. This results in better fuel efficiency and lighter unsprung weight, contributing to improvements in ride comfort. Mounting a high-precision rotation sensor and a load sensor that is capable of detection in three axial directions - vertical load, horizontal cornering force, and drive/brake (front/rear) force - improves the driving support systems that help prevent and avoid collisions. The sensing technologies also contribute to better fuel efficiency by reducing power loss.
NTN will propose the "Hub Joint with Incorporated Advanced Sensor Technology" globally as a module product to help improve performance of next-generation vehicles.
*1
Corner module product:
collective term for the hub bearing, CVJ and other parts used for drive sections on the axle.
*2
Press-cut spline method:
the spline teeth (pre-spline) that are smaller than the spline teeth formed on the outer circumference of outer ring stem of the CVJ have now been formed inside bore surface of the hub bearing and fastened with a bolt. This new fitting technology allows the CVJ spline teeth to be press fitted on to the hub bearing inside bore surface spline teeth while it is being assembled.
(Reference)
Press release of the new "Press Cut Spline Hub Joint" product developed using this method
https://www.ntnglobal.com/en/news/new_products/news201200042.html
Features
Integration of hub bearing and CVJ using the proprietary press-cut spline joint

(1) High fuel efficiency:12% reduction in weight compared to conventional products, better torque transmission ratio
(2) Comfort:lower unsprung weight

Two highly-functional sensors integrated in the hub bearing

(1) Safety:safe drivability with the high-precision rotation and load sensor, capable of preventing and avoid collisions
(2) High fuel efficiency: high-response sensing to reduce engine power loss
Inquiries about this release
Product photo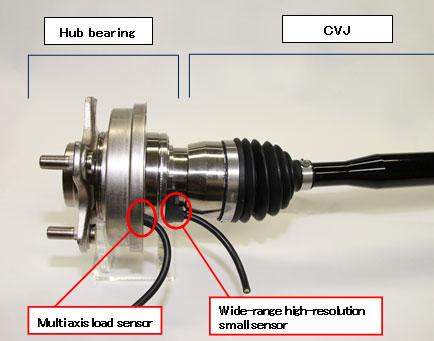 Hub Joint with Incorporated Advanced Sensor Technology
Applicable parts