NTN Develops "30° PTJ" with World's Largest Operating Angle for Crossover SUVs
Largest Angle Ever for a Tripod-type Plunging Constant Velocity Joint
In response to the diversifying needs for crossover SUVs and other vehicles, NTN Corporation has developed the low-vibration "30° PTJ" with world's largest operating angle for a tripod-type plunging constant velocity joint (CVJ).
In recent years crossover SUVs have been gaining popularity, especially in Europe and Japan. This has created a demand for both off-road and on-road performance. For this reason, CVJs with superb NVH performance and a large operating angle are required for the inboard (differential) drive shafts used in these crossover SUVs.
NTN Corporation has already achieved a large operating angle of 30° with its DOJ ball-type plunging CVJ, and now it has developed the PTJ -- the world's largest operating angle in a low-vibration tripod plunging CVJ.
The newly developed 30° PTJ features an optimized internal design using FEM and dynamic analysis achieving the world's best level of vibration characteristics in a plunging CVJ. These characteristics improve automobile noise, vibration and harshness (NVH) in application. The outer diameter of the joint housing is the same even with the higher joint angle capability. This is important to address OEM tight packaging environments and low mass requirements. Additionally, the operating-angle in low-vibration range is increased to 17°. This greatly contributes to improving automakers' freedom in designing suspensions. This design enhancement will reduce shudder during initial vehicle acceleration, even during fast starts when the front of the vehicle rises considerably and increases the operating angle of the CVJ.
As demand increases for improved comfort and freedom in vehicle drivetrain and suspension layouts, NTN is stepping up to meet the changing needs of our global customers.
<Features>
Large operating angle

Maximum operating angle of 30° achieved (4° greater than current PTJ)

Low vibration characteristics

Low-vibration operating range increased to 17° (2° greater over the current PTJ)

Outer diameter/weight

Equivalent to current PTJ
[Points appealing to Customers]
At 30°, the PJT has the world's largest operating angle of any tripod-type plunging constant-velocity (CV) joint, while maintaining world-class low-vibration characteristics and without increasing the outer diameter.

[Features]
Max operating angle: 30° (Current PTJ: 26°)
Low vibration range: Max about 17°

(Current PTJ: Max about 15°)

External diam.: Same as current PTJ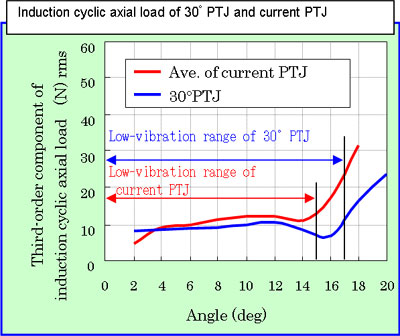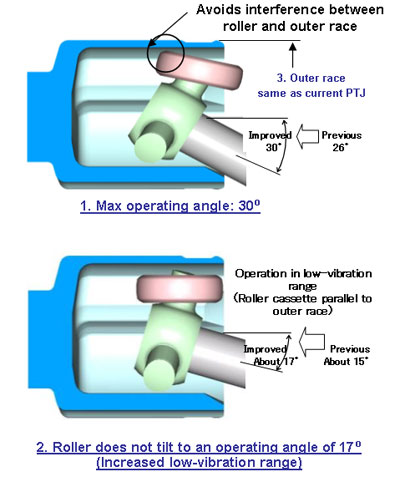 [Means to Achieve Results]
The shape of the inner diameter of the roller was changed to increase the low-vibration range and achieve an operating angle of 30° without interference between roller and outer race
This interference-avoiding design prevented increases in outer race diameter