NTN Exhibits at "RoboDEX Nagoya- Robot Development & Application Expo"

October 13, 2023
Exhibiting products contributing to saving person-hour and automation at manufacturing sites, and improvements of industrial robot performance
Date
October 25 (Web) to 27 (Fri), 2023
Venue
Port Messe Nagoya
(2-2 Kinjo-futo, Minato-ku, Nagoya)
Booth No.
40-36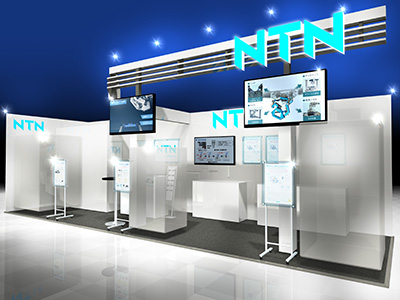 NTN Corporation (hereafter, NTN) exhibits at "RoboDEX Nagoya- Robot Development & Application Expo" to be held from October 25 to 27 in Port Messe Nagoya, Japan.
This event is a specialized robot exhibition where robot development technologies including the latest robots and peripheral equipment gather, and the number of visitors last year exceeded 30,000. This year, approximately 700 companies that handle robots for factories and logistics, as well as components such as electronic parts, materials, motors, and actuators, will exhibit and demonstrate the latest technology to robot users in the Chubu and Kinki regions, Japan.
While labor savings and efficiency improvements are required at manufacturing sites, NTN will exhibit Wrist Joint Module "i-WRIST™" which automates manual labor, "Microscopic Coating Applicator" which applies extremely small amounts of liquids of various viscosities at high speed and with high precision, and "Multi Track Magnetic Ring" and "Multi Track Magnetic Encoder Integrated Rolling Bearing" as products to contribute to detecting absolute angle of industrial robot joint.
We are looking forward to seeing you.
Main exhibits
Wrist Joint Module "i-WRIST™"
It is a compact positioning module that achieves a wide range of angle movement while saving space. This can move smoothly like human wrist at high speed to perform minor position (angle) changes, which vertically articulated robots are not good at doing.
The maximum weight capacity is 3kg. It adapts to various mounting postures including upward, sideways, and inclined directions. By attaching end effectors such as camera, lightning, dispenser, and cleaning nozzle, it can contribute to automation, improvement in efficiency, and saving labor of various processes such as appearance inspection, grease dispensing, and cleaning.
At this exhibition, we will exhibit "i-WRIST" Starter Package which includes the main unit and peripheral parts, as well as demonstration machines for visual inspection and grease application.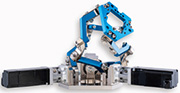 "Microscopic Coating Applicator"
This is a device that applies extremely small amounts of liquid of various viscosities of several pL (one trillionth of a liter) adhered to the tip of a needle with high precision in 0.1 second per application. It applies the technology of repair equipment that repairs minute defects in LCD panels and color filters, this device can be applied to chip components and micromachine adhesive application, as well as to life science-related applications such as the development of three-dimensional cell chips.
At this exhibition, we demonstrate some example function where you can see the application operation of this device.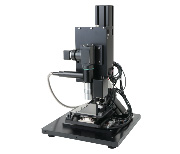 "Multi Track Magnetic Ring"
This is a ring-shaped product used to detect angle of robot joints. When combined with a dedicated magnetic sensor, it can detect absolute angle with high resolution.
As it is a magnetic product, it has superior resistance against vibrations, high temperatures, dust, oil mist. Since it is thin, lightweight, and has a hollow shape with a large diameter so that cables can be passed, it contributes to downsizing and improvement of design flexibly of robots.
In addition to the 64/63 pole pairs series, the compact and lightweight type, the 32/31 pole pairs series is also available.
At this exhibition, we will demonstrate angle detection with dynamic exhibition that applies this product to skeleton model of robot joint.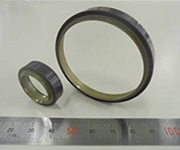 "Multi Track Magnetic Encoder Integrated Rolling Bearing"
This is a unit product integrating bearing with magnetic type encoder. By reading changes in magnetic poles of "Multi Track Magnetic Ring" attached to inner ring of bearing with magnetic sensor IC equipped with outer ring, it can detect rotational speed, direction, and absolute angle.
The product eliminates the need for transmission devices like couplings that connect joint shaft and rotary encoder, achieving downsizing/lightweighting of robot joint. The operation for mounting/setting up couplings is also eliminated, making assembly of robot easier. Dimensions and load capacity of the bearing in the product are the same as those of conventional bearings, and can be applied to a wide range of robots.
At this exhibition, we will exhibit a product sample where you can actually rotate this product by hand and see how much the angle changes on the spot.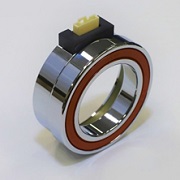 Inquiries about this release