NTN Exhibits at "AUTOMOTIVE ENGINEERING EXPOSITION 2023 YOKOHAMA"

May 22, 2023
"AUTOMOTIVE ENGINEERING EXPOSITION 2023 YOKOHAMA"
Date
May 24(Wed) to 26(Fri), 2023
Venue
PACIFICO Yokohama
(1-1-1, Minato Mirai, Nishi-ku, Yokohama)
Booth No.
73
"AUTOMOTIVE ENGINEERING EXPOSITION ONLINE STAGE 1"
| | |
| --- | --- |
| Date | May 17(Wed) to June 7(Wed), 2023 |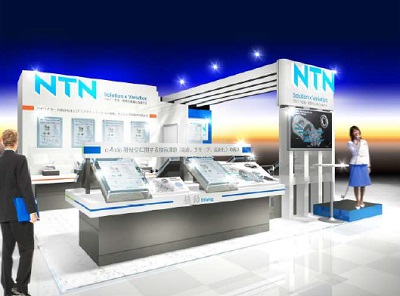 NTN Corporation (hereafter, NTN) exhibits at "AUTOMOTIVE ENGINEERING EXPOSITION 2023 YOKOHAMA" to be held from May 24 to 26 in PACIFICO Yokohama, Kanagawa, Japan.
The needed specifications for automotive components are changing drastically as the shift to electrification of automobiles and the spread of EVs have been accelerating in the automotive market. Reflecting these market trends, NTN will exhibit at the event under the theme of "'Nameraka' × 'Solution' –Contribute to creation of the future in human, automobile, and society-" to propose NTN's proprietary solutions for the future. We will exhibit products and services in the three areas of the booth: "products for e-Axle", "products for drivetrain", and "products for control system" such as electric hydraulic brake system, steer-by-wire etc.
In the "e-axle" Area, we will introduce products for e-Axle which is used as a driving source in EVs. e-Axle becomes more compact and its output power also becomes higher toward the extension of the cruising range and saving electricity. Thus bearings for e-Axle are required to achieve high speed rotational performance. Moreover, the bearings also need to address to electrical pitting. It is one of the damages of bearings occurred when electric current passes through the bearing and the metallographic structure melts, causing spalling (flaking) of raceway surface. In addition, the bearings are also required to deal with creep*1. Creep becomes more likely to occur, as the motor housing becomes thinner. At the NTN booth, we will exhibit products that meet usage situations unique to e-Axle including High Speed Deep Groove Ball Bearings which achieves the world's best level in high speed rotational performance with dmn value*2 of 2.2 million, electrical pitting-resistant bearings using insulators, and "Creepless Bearing" which stops creep for the first time in the industry.
In the "Drivetrain" Area, we will exhibit hub bearings and driveshafts that pursue transmission efficiency. They are products with high function utilizing technologies that NTN has cultivated so far: "Low Friction Hub Bearing" that achieves low friction by reviewing greases and seals, High Efficiency Fixed Type CVJ "CFJ" that significantly reduces torque loss, Compact Lightweight Rear Driveshaft "R Series" that realizes lightweight with dedicated design for rear, and "GEN4 Hub Joint" that integrates hub bearing with driveshaft which NTN boasts high market share.
In the "Control system" Area, NTN will introduce various products that contribute to electrification of applications such as auxiliaries and brakes. In addition to ball screws used in electric braking systems, we will also exhibit high performance module products such as "Mechanical Clutch Unit (MCU) for Next-generation Steering" which contributes to safety in steering in automated driving, and "Combined Controller Module Electric Oil Pump" which adapts to a wide variety of operating conditions with lightweight and compact design.
NTN also exhibits at "AUTOMOTIVE ENGINEERING EXPOSITION ONLINE STAGE 1" held from May 17 to June 7 where we will introduce the same products exhibited at "AUTOMOTIVE ENGINEERING EXPOSITION 2023 YOKOHAMA" with photos, panels and others.
We look forward to seeing you at the event.
Phenomenon in which the fixed outer ring slips by rotating in circumferential direction
An indicator that expresses the rotational performance of bearings and is multiplied bearing pitch circle diameter (mm) by rotational speed (min-1)
Main exhibits
1. e-Axle Area
| | |
| --- | --- |
| Exhibits | Products adapting to needs of e-Axle such as high speed rotation, creep-resistant, and electrical pitting-resistant, which are emerged accompanied by the trend of compactness, lightweight, and higher power output of e-Axle |
High Speed Deep Groove Ball Bearing for EVs and HEVs
It achieves high speed rotational performance by minimizing distortion caused by centrifugal force through improvement of the retainer which enhances its strength by reviewing the materials and improving pockets where the retainer contacts with rolling elements.
It can be applied to both grease and oil lubrication. In the usage conditions of oil lubrication, it can be used for high speed rotation with dmn value of 2.2 million*3. In recent years, there has been an increasing trend for motors with oil lubrication which has excellent cooling effects in order to suppress motor heat generation. With this trend, NTN has received a large number of inquiries and orders of the products for oil lubrication use and been expanding mass-production.
Depending on usage situation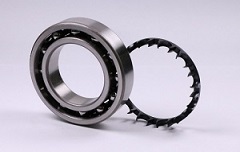 "CreepLess Bearing"
It stops progressive wave type creep*4 by applying NTN's proprietary undercut machining on the outer diameter of the outer ring of a bearing, which is an industry first way. While there has been a growing demand for more compact and lightweight motors and transmissions, bearing raceways and housings used in these drive units tend to be thin. It leads to creep which causes abnormal noises or vibrations in the apparatus or shorten the operating life of the bearing. This product can stop creeping by replacing standard type bearings of the same dimensions with no additional components.
A phenomenon in which the distortion of the outer ring caused by a load acting on a rolling element becomes a progressive wave and the outer ring turns and slips in the same direction as the rotation of inner ring.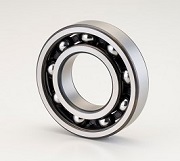 2. Drivetrain Area
| | |
| --- | --- |
| Exhibits | Hub bearings and driveshafts which pursue transmission efficiency in order to transmit torque from power source to tires without loss |
"Low friction hub bearing IV"
Reference Exhibition
This hub bearing reduces rotational friction while driving by 67% and improving vehicle electricity efficiency by approximately 0.78% compared to our conventional product. By adopting new grease with improved ingredient and viscosity in seals as well, and applying seal structure with labyrinth, the product reduces the rotational friction of the bearing itself while maintaining its function. Additionally, it can prevent the fretting wear*5 in low-temperature condition.
Wear caused by micro-vibration during transportation of vehicles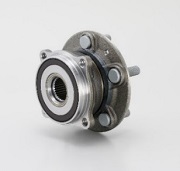 High Efficiency Fixed Type CVJ "CFJ"
This is a fixed type constant velocity joint (CVJ) contributing to saving fuel efficiency and electricity with the highest level of efficiency during transmitting torque. By adopting proprietary "Spherical Cross Groove Structure" that offsets the force applied to internal parts, the product reduces torque loss ratio by 50% and suppresses the increase in torque loss rate even at high-operating angle.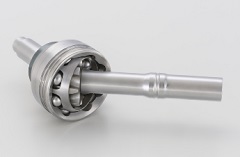 Compact Lightweight Rear Driveshaft "R Series"
This is a constant velocity joint (CVJ) for rear with the world's best level of compactness and lightweight, with 30% reduction in weight and 3 to 5% reduction in outer diameter of outer ring compared to the conventional product, achieving the world's best level in compactness and lightweight as CVJs for front.
By optimizing design including operating angle and function required for rear, and adopting thinner hallow shaft and compact boots, it realizes compactness and lightweight while maintaining needed load capacity.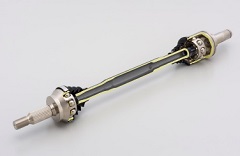 "GEN4 Hub Joint"
This product integrates the inner ring of hub bearing with the outer ring of CVJ. Hub bearing and CVJ are fixed by using NTN's proprietary coupling method and it eliminates backlash at joint without using coupling nuts. It contributes to weight reduction and saving person-hours in assembly by combining hub bearing with CVJ.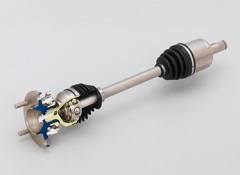 3. Control system Area
| | |
| --- | --- |
| Exhibits | Module products and clutch products that respond to electrification of automobiles including ball screws where significant growth in demand is expected particularly for applications such as brake. |
High Load Capacity and High efficiency Linear Motion Screw
Liner screws which convert rotary motion into linear motion will be increasingly used in various control mechanisms such as electric brake systems, accompanied by electrification of automobiles. NTN supplies two types of linear screws: ball screws which maximize ball diameter by using round nut and realizes high load capacity, and sliding screws which adopt NTN's proprietary special sliding plastic material for nut.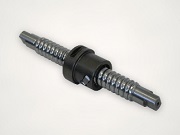 "Mechanical Clutch Unit (MCU) for Next-generation Steering"
This is a compact clutch product for steer-by-wire that combines electromagnetic clutch and roller clutch. It is used as a mechanical link backup mechanism for steer-by-wire, this system enables normal steering operations by instantly linking between tires and steering wheel in the event of an electric failure.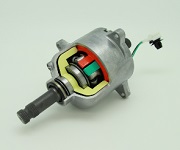 "Combined Controller Module Electric Oil Pump"
Electric oil pumps are increasingly used to supply transmissions with lubrication oil when engine is stopped. Additionally, to improve efficiency, the replacement from mechanical oil pumps has been accelerating in EVs as well. NTN's electric oil pump integrates pump, motor, and housing of controller to achieve both heat dissipation and compactness. Equipped with controller and rotation sensor, it is possible to control at high precision in various operating conditions such as low temperature and low rotation.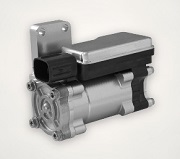 Inquiries about this release