NTN Exhibits at "20th Shanghai International Automobile Industry Exhibition (AUTO SHANGHAI 2023)"

April 4, 2023
Date
April 18 (Tue) to 27 (Thu), 2023
(public days from April 22 to 27)
Venue
National Exhibition and Convention Center
(Shanghai, China)
Booth No.
1.2H-1BF009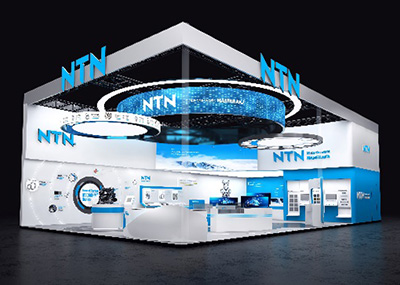 NTN Corporation (hereafter, NTN) exhibits at the "20th Shanghai International Automobile Industry Exhibition (AUTO SHANGHAI 2023)" to be held from April 18 to 27 in Shanghai, China.
This event is one of the largest exhibition about automobiles in China held for 10 days. Over 1,000 companies including automotive manufacturers and automotive component manufacturers around the world will participate in the exhibition.
While the electrification has been accelerating in Chinese automotive market, automotive component manufactures are required to develop products with features of lightweight, high efficiency, and NVH (Noise, Vibration, Harshness). In addition to these features, there is a growing need for high speed rotational performance and low friction in bearings. Considering such trends, NTN will exhibit various products meeting these needs at the booth under the theme of "Change in the world, together with NTN."
e-Axle used as power sources for EVs tend to be smaller and lighter in order to save electricity. In order to make up for the lack of power due to downsizing and weight reduction, the output power of e-Axle motors increases, and bearings used in these motors are required to have high speed rotational performance. NTN will exhibit bearings for e-Axle such as "High Speed Deep Groove Ball Bearing for EVs and HEVs" which realizes high speed rotational performance with dmn value* of 2.2 million and "Ultra-low Friction Sealed Ball Bearing" which realizes torque reduction while preventing foreign matter such as gear wear debris inside e-Axle from entering into the bearing by adopting NTN's proprietary seals.
As to hub bearings and driveshafts where NTN has large world's market share, we will exhibit products "Low Friction Hub Bearing III" that achieves low friction by reviewing the seal shape and grease composition, and High Efficiency Fixed Type CVJ "CFJ" which greatly reduces the torque loss rate with NTN's proprietary "Spherical Cross Groove Structure" that cancels the force applied to internal parts. Additionally, NTN will introduce products unique to our company with high technical capabilities in both hub bearings and driveshafts: GEN4 hub joint that integrates hub bearings and driveshafts.
* dmn value: An indicator that expresses the rotational performance of bearings and is multiplied bearing pitch circle diameter (mm) by rotational speed (min-1)
Main exhibits
High Speed Deep Groove Ball Bearing for EVs and HEVs
It achieves high speed rotational performance by minimizing distortion caused by centrifugal force through improvement of the retainer which enhances its strength by reviewing the materials and improving pockets where the retainer contacts with rolling elements.
It can be applied to both grease lubrication and oil lubrication. Depending on the usage conditions of oil lubrication, it can be used for high speed rotation with dmn value of 2.2 million. In recent years, there has been an increasing trend for motors with oil lubrication which has excellent cooling effects in order to suppress motor heat generation. Under these situations, NTN has received a large number of inquiries and orders for oil lubrication use and been expanding mass-production.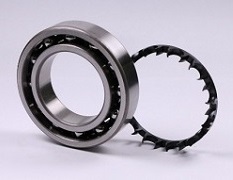 "Ultra-low Friction Sealed Ball Bearing"
It achieves 80% rotational torque reduction when compared to conventional products through adoption of newly developed seals which arranges arc-shaped micro convexes at regular intervals on the sliding contact section of the seal lip. The torque is the same level as that of bearings without seals. During rotation, the seal is floated slightly due to the wedge film effect of the micro convexes, resulting in the rotation torque reduction. As the convexes are micro, the seal prevents hazardous foreign matter from entering into the bearing to ensure bearing operating life.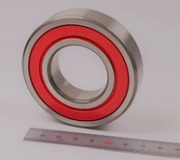 "Low Friction Hub Bearing III"
A hub bearing reducing rotational friction while driving by 62% and improving vehicle fuel efficiency by approximately 0.53% compared to the conventional product. By improving ingredient and viscosity of grease, applying seal structure with labyrinth, and optimizing the preload inside the bearing, the product reduces the rotational friction of the bearing itself with maintaining the performance. Additionally, it can prevent the fretting wear* in low-temperature condition.
* Wear caused by micro-vibration during transportation of vehicles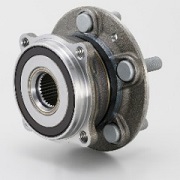 High Efficiency Fixed Type CVJ "CFJ"
This fixed type constant velocity joint (CVJ) contributes to fuel and electricity saving in automobiles with the world's highest level of efficiency. By applying NTN's proprietary "Spherical Cross Groove Structure" that cancels the force applied to internal parts, it can reduce torque loss rate by more than 50% while maintaining the world's best level of lightweight and compactness of the conventional product. Furthermore, CFJ greatly suppress the increase in torque loss rate even at high-operating angle.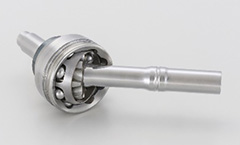 Inquiries about this release