NTN Exhibits at the "Parts Feeder Exhibition 2019"

December 4, 2019
Date
December 18 (Wed) to 21 (Sat), 2019
Venue
Tokyo Big Sight
(3-11-1 Ariake, Koto-ku, Tokyo)
Booth No.
W3-01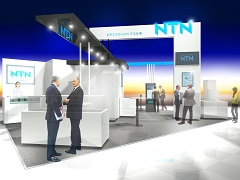 NTN Corporation (hereafter, NTN) will exhibit at the "Parts Feeder Exhibition 2019" held in Tokyo Big Sight from December 18 to 21.
In recent years, automation and IoT have been incorporated into manufacturing processes rapidly due to backgrounds such as labor shortages at Monozukuri sites. Under these circumstances, parts feeders, which arrange and transport components, have more attention from various industries. Since 1970s, NTN has been developing and selling parts feeders that meet a wide range of needs in industry to supoprt Monozukuri: high speed, quietness, and space saving.
At this exhibition, NTN will exhibit parts feeders and robot-related products that contribute to labor savings and improvement of efficiency at Monozukuri sites: "Crossdrive Feeder," "High Speed SMD Feeder," and "High Speed Linear Feeder" that realize high speed and smooth transportation. The booth will also demonstrate the integrated control of all parts feeders in the booth by using controllers with communications function as examples corresponding to IoT.
NTN will also introduce the "i-WRIST™" Wrist Joint Module which features smooth and quick movement like a human wrist at a dynamic model.
We look forward to seeing you at the event.
Main exhibits
Crossdrive feeder

It realizes high speed transportation (20 m/min at maximum) and smooth movement as well as quietness by simultaneously shaking flat springs in both horizontal and vertical directions. Vibrations in each direction can be controlled by dedicated controllers. By creating vibrations that are corresponded to the shape and weight of the work, the product can be used to transport and sort a wide variety of work including automotive parts.
"i-WRIST™" Wrist Joint Module

Positioning equipment that achieves a wide range of angle movement, and is both compact and space-saving. This can move like human wrist at high-speed to perform minor position (angle) changes, which vertically articulated robots are not good at doing.

"i-WRIST™" contributes towards the automation of various processes, makes them efficient and reduces manual labor. These processes can include appearance inspection, grease application, and cleaning when combining "i-WRIST™" with other robots and attaching end effectors to the equipment.
Inquiries about this release