NTN holds "NTN Rotating School" in "RUNRUNRUN 2019"

February 1, 2019
Tokyo RUNRUNRUN 2019
Date
February 9 (Sat), 2019
"NTN Rotating School"


venue

Symbol Promenade Park
(Daiba, Minato-ku, Tokyo)
Central Square

Opens

9:00 to 15:30
Osaka RUNRUNRUN 2019
Date
February 24 (Sun), 2019
"NTN Rotating School"


venue

Expo'70 Commemorative Park
(Senri Expo Park, Suita City, Osaka Prefecture)
Eastern Plaza (Higashi-no-hiroba)

Opens

9:00 to 16:00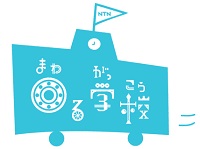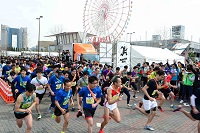 NTN Corporation (hereafter, NTN) sponsors "RUNRUNRUN 2019," a running event held by the Midorikai Co., Ltd. (hereafter, Midorikai), and will hold "NTN Rotating School" at both the Tokyo and Osaka venues where these events will be held.
"RUNRUNRUN" is a running for employees of Midorikai member companies as well as the general public. The concept is to strengthen relationships among employees, their families, and friends through various events such as half marathons, relay runs, and family runs.
Runners of the NTN Track & Field Club will participate in the events, and the "NTN Rotating School" will be held in the venues to promote the events. At the "NTN Rotating School," both children and adults can enjoy learning about energy-saving technologies and bearings for a sustainable society through various programs. This time, NTN will offer hands-on attractions of bearing assembly and the speed race of bicycles using NTN's bearings. Bearings used in automobiles, railroads, artificial satellites, and other types of machines will also be exhibited.
We look forward to seeing you at the event.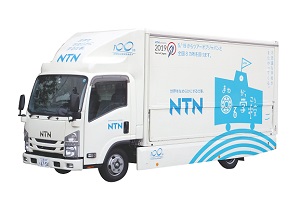 Program
Bearing assembly

You can try to assemble a bearing by combining an outer ring, an inner rings, retainers, and balls. If you look at bearings for the first time, you can learn about the structure and mechanism of bearings. This is a popular program that allows not only children but also adults to enjoy.
Bicycle speed race

A virtual cycling game that takes on the challenge of maximum speed in a realistic 3D space. You can experience smooth pedal movement by riding on a racing bike that uses NTN precision bearings.
About "NTN Rotating School"
Details

"NTN Rotating School" was planned to deepen ties between local community and the next generation. It was held for the first time at the "Tour of Japan," an international bicycle race sponsored by NTN in 2017.

NTN employees plays a leading role in providing children and adults with opportunities to enjoy learning about energy-saving technologies for a sustainable society and bearings, our core product, through workshops and hands-on attractions.

YouTube channel

official NTN YouTube channel.

https://www.youtube.com/NTNcorporation

Please search for "YouTube NTN corporation" to search.

Recorded videos of NTN Rotating Schools in the past are available.

Contact

Corporate Value Promotion Dept.
Inquiries about this release