NTN Exhibits at Seoul International Machine Tool Show "SIMTOS 2018"

March 30, 2018
Date
April 3 (Tue) to 7 (Sat), 2018
Venue
Korea International Exhibition Center (KINTEX)
Goyang City, Korea
Booth No.
Hall 2 10G300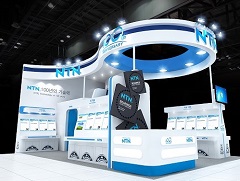 NTN will run a booth at Seoul International Machine Tool Show "SIMTOS 2018."
With the theme "NTN, Technology of 100 Years," a broad range of exhibits will be on show, including the ULTAGE* series of bearings as well as other products for machine tools.
There will also be numerous exhibits of products that feature a collection of NTN technology, such as the Handy Type Failure Detection Device, composite material products and bearings with sensors.
We look forward to seeing you at the event.
* ULTAGE is the name for NTN's goal of achieving the ultimate performance with precision bearings, and expresses the "Ultimate" performance on any type of "Stage."
Main exhibits
ULTAGE Series of Precision Roller Bearings for Machine Tools
Precision bearings that support high efficiency processing, high reliability, high quality processing and environment-conscious design required for machine tools. Demonstrates excellent ability due to such factors as the adoption of seals on both sides, special grease, special material/surface modification and also the optimization made to the internal bearing design.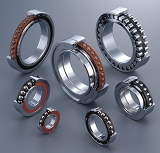 ULTAGE Small Size High Speed Angular Contact Ball Bearing for Machine Tool Spindles
Adopts a newly designed seal that retains a large volume of grease inside the bearing, without obstructing dust prevention functionality and cooling with compressed air, to improve grease retention and ensure the steady flow of compressed air. In addition, we have devised a grease lubricated position and volume, which achieves long life. Furthermore, by adopting a processing method that improves the precision of the bearing raceway surface, we have reduced vibrations by approximately 50% in comparison with conventional types.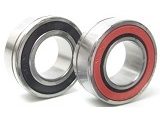 Machine Tool Main Spindle Bearing with Air Cooling Spacer
Reduces the inner and outer ring temperature difference during high speed rotation by adopting an "air cooling spacer" that applies a unique air cooling technology to the machine tool main spindle bearing. This improves the high speed rotational performance by 20% in comparison with existing parts (ultra-high speed angular contact ball bearings) and achieves a dmn value* of 2.1 million with air oil lubrication and fixed position preload, which provides the highest level of high-speed rotational performance in the world.
* An indicator that expresses the rotational performance of bearings and is bearing pitch circle diameter (mm) × rotational speed (min-1)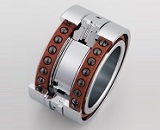 Ball Screw Support Unit
Delivers the world's highest load capacity as a ball screw support unit, and uses a newly developed seal for low torque and high dust proofing. Comes filled with a long-life grease initially, eliminating the need for additional lubrication.
Handy Type Failure Detection Device
This device enables the sending of bearing vibration data via the internet to the server and analysis of the data through the use of mobile devices such as smart phones. Since it displays the results onto mobile devices, the device demonstrates a high level of compactness and mobility.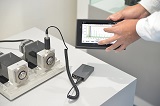 Inquiries about this release