Half a Century of NTN - Historical Journey -

Foundation and company incorporation
A time when bearings were imported
The first bearing introduced to Japan is said to be around the year 1910, which were very expensive units from a manufacturer in Sweden. At the time, only imported bearings were available in Japan, and bearings of the Swedish manufacturer were the most well-known for general use. It was around 1916 that tapered roller bearings from an American manufacturer were used in automotive aftermarket applications.
Nishizono Ironworks and Tomoe Trading Co.
NTN's history began when young engineer named Jiro Nishizono founded Nishizono Ironworks in Kuwana, Mie Prefecture in 1918 at the age of just 21. Mr. Nishizono had learnt his skills after working at local ironworks for around 2 years before starting out with his own metalworking company.
Meanwhile in Osaka, NTN's future first President Noboru Niwa founded and ran a trading company for machinery and tools called Tomoe Trading Co. at the age of 22. He also started manufacturing and selling rice milling machines, and his relationship with Mr. Nishizono started when Mr. Niwa requested Nishizono Ironworks to produce these milling machines.
Jiro Nishizono
who founded NTN after starting research and development of bearings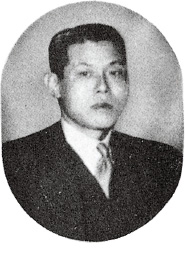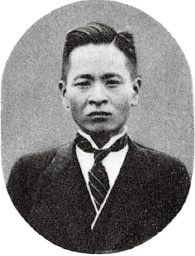 Noboru Niwa
who commercialized bearing manufacturing and became the first President of NTN
Toward domestic production of bearings
One day in 1922, a Swedish ship suffered an accident in Japan and its cargo was disposed by the insurance company. Mr. Niwa won the bid for all bearings loaded in the ship's cargo. He requested Nishizono Ironworks to repair those bearings, and sell the repaired bearings. Then he earned much profits than he expected. Mr. Niwa became willing to produce bearings domestically and used this profit to purchase three grinding machines. He brought these machines to Nishizono Ironworks and asked him to research and develop bearings. Mr. Nishizono began studies on domestic production of ball bearings, which at the time were only limited to imported items, and started full-scale production of bearings.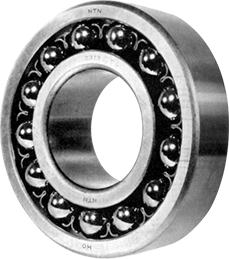 NTN bearing successfully manufactured in Japan at the time
The birth of NTN bearings
In 1923, Tomoe Trading Co. established a ball bearing division and began sales of domestically produced bearings under the brand name "NTN," derived from the N of Mr. Niwa, T of Tomoe Trading Co. and N of Mr. Nishizono. Since then, all products have been marked with the NTN symbol until now. Today the meaning of "NTN" has changed to the initial letters of "For New Technology Network."
A company specialized at manufacturing and sales of bearings was established in 1927 in Osaka as "NTN Mfg. Co., Ltd." It was here that NTN Corporation took its first steps as a corporate entity.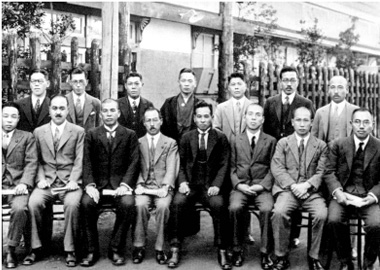 In front of the NTN Mfg. Co., Ltd. plant
Rear row: Mr. Niwa (center), Mr. Nishizono (third from left)
Contributing to Japan's modern industrialization, including aircraft
Sales activities to build a firm base
In 1930, three years after the company was established, NTN's bearings were recommended by the Ministry of Commerce and Industry as a Superior Domestic Product, and selected as the designated plant by the Ministry of Railways to receive bulk orders from Japanese National Railways.
NTN began successfully selling bearings to major automotive parts distributors in the private sector and established a base to enter the automotive industry. The fact that NTN succeeded in having automotive manufacturers at the time switch from other bearing companies is particularly notable.
The NTN name became better known following the sale of a large volume of belt transmission shaft bearings for industrial machinery, while a leading manufacturer of household appliances chose NTN as the designated manufacturer, in what proved to be one success after another.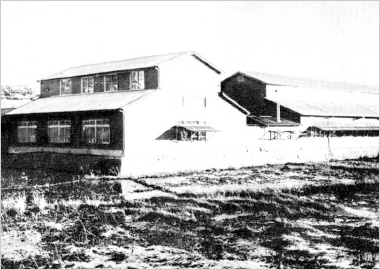 The Kuwana Plant in 1934 (former Nishizono Ironworks)
Development of bearings for aircraft engines
Japan eventually shifted its focus to manufacturing aircraft, and the development of ultra high-speed bearings for aircraft engines became a major challenge in Japan's bearing industry. This was said to be almost impossible in Japan given the level of technology in the country at the time, and there was much interest in which company would develop such bearings at first. In 1934, NTN was the first to successfully develop the bearings. This was one of the foundations which Japan enabled to manufacture aircrafts domestically.
Demonstrating superiority with genuine domestic aircraft
Three years later, the first domestic aircraft made in Japan flew from Tokyo to London in 94 hours, 17 minutes and 56 seconds, which represented a groundbreaking new world record. NTN products were used throughout the entire aircraft, from the motor to the body, which served to highlight the superiority of NTN bearings and build the foundation and tradition of its technical capabilities for aircraft bearings.
Change the company name to "Toyo Bearing Mfg. Co., Ltd."
In 1934, the company reorganized from the previous limited partnership to a stock company with capital of 3 million yen. As business continued to grow, production capacity and plant expansion became necessary. To source funding, the company examined how and when to greatly increase capital. As a result, the company determined that it needed to be more prominent throughout society, and that the company needed to change its name appropriately. In 1937, the company changed its name from "NTN Mfg. Co., Ltd." to "Toyo Bearing Mfg. Co., Ltd." Capital was increased more than three-fold the same year to 10 million yen, and company stock started being traded publicly. At the time, the general public had very little awareness of bearings, and it was said that it took considerable effort to explain the company's line of business.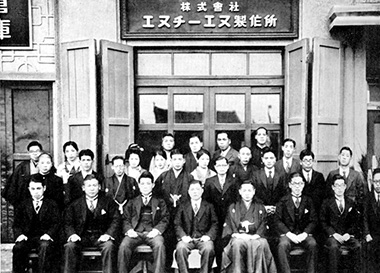 In front of the head office building in 1937 (Dojima, Kita-ku, Osaka)
The first Japanese bearing manufacturer to expand business overseas
First in the industry to expand overseas
The huge increase in capital after offering stock to the public provided the opportunity to expand business drastically. The company established "Manchuria Bearing Mfg. Co., Ltd." in March 1938, and constructed a plant in today's Wafangdian, Dalian, China. This was the first time that a Japanese bearing manufacturer had expanded its business overseas. The company was dissolved at the end of the war, however it is widely recognized for its historical achievement in preventing the Swedish manufacturer, which was expanding rapidly around the world at the time, from establishing a foothold in the East.
The plant also formed the roots of today's "Wafangdian Bearing Group Corp."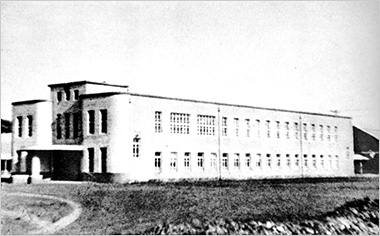 Manchuria Bearing Mfg. Co., Ltd.
New company established within Japan
With increased demand within Japan, there was a pressing need to increase production of automotive bearings in particular, so a new plant was constructed in Takarazuka City, Hyogo Prefecture. To prevent shareholders of Toyo Bearing Mfg. Co., Ltd. from being exposed to profitability risks due to business expansion, the new plant was created as a separate company until the appropriate level of profit was achieved, and "Showa Bearing Mfg. Co., Ltd." was established in June 1938.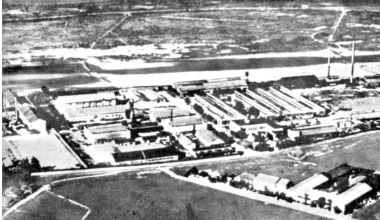 Construction of the new plant in Muko-gun, Ryogen Village (the present Takarazuka City), Hyogo Prefecture
Opening of Mukogawa Plant
"Showa Bearing Mfg. Co., Ltd." secured an increasing number of new orders soon after being established, with a stable level of profit forecast in less than one year. In December 1939, the company was absorbed into "Toyo Bearing Mfg. Co., Ltd." as the Mukogawa Plant and later renamed to Takarazuka Works.
Takarazuka Works ceased production in end of March 2009 and was closed as part of restructuring of the production system.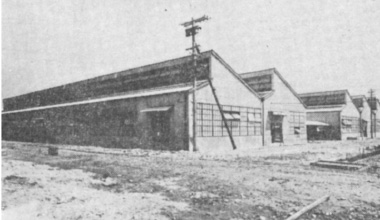 Mukogawa Plant under construction
Relocation of Kuwana Plant
The major facilities at Kuwana Plant were destroyed when a fire broke out in 1938. The company used this opportunity to relocate the plant to the outskirts of Kuwana City. A state-of-the-art plant with a site area of 100,000m2 was completed in November 1939, and began manufacturing bearings for aircraft and other products. This became the present Kuwana Works.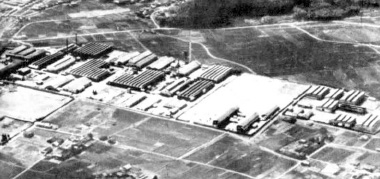 Kuwana Plant constructed in the outskirts of Kuwana City
Start of operations at Komano Plant
In 1944, the company acquired the approximately 100,000m2 site of a spinning company located in Komano, Kaizu-gun (the present Kaizu City, Nannou-cho, Komano), Gifu Prefecture. The plant was remodeled and production of bearings for aircraft began. The plant was transferred to another spinning company after the war.
As such, NTN has been active in making constant improvements to strengthen the production system in Japan and overseas to meet increased demand.
Leading Japanese industry, targeted for attacks during the war
A major player as a leading manufacturer
From 1934 and on, NTN led the Japanese bearing industry with bearings for aircraft which require the highest level of performance. The Japanese aircraft industry was immense, with 4,000 units per month being manufactured at the peak. In its prime, NTN had a high 70% share for supplying high-precision bearings.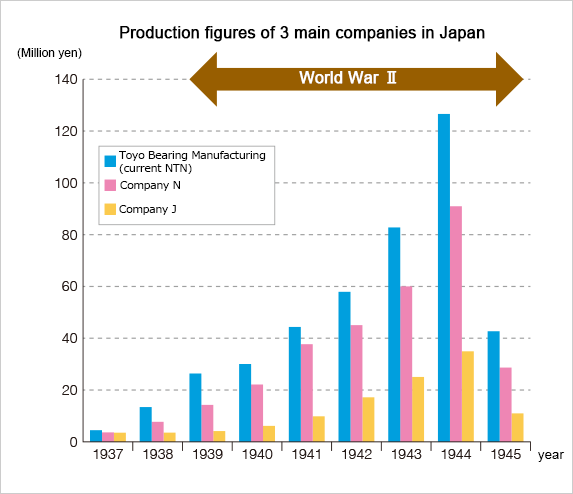 Source: Created from "Bearing Industry in Japan" by the Japan Bearing Industry Association
First precision bearings and extra-large size bearings manufactured in Japan
In 1942, NTN manufactured precision bearings for machine tools, which until then could only be imported, for the first time in Japan, and constructed a dedicated plant at the Kuwana Plant. That same year, NTN was succeeded in manufacturing extra-large size bearings (with an outer diameter of 1.15m) for steel rolling mills for the first time in Japan. Since then, NTN constantly retained its leading position in Japan for the production of extra-large size bearings for steelworks, thermal power plants, construction machinery and other industrial machinery.
NTN subsequently went on to manufacture products with an outer diameter of 3.5m, and this is no doubt where NTN first became known for its expertise with extra-large size bearings.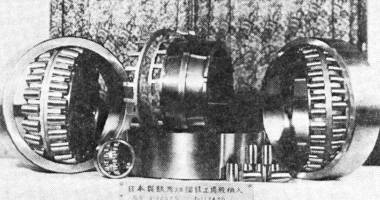 First extra-large size bearing in Japan (outer diameter 1.15m)
Advancing research into quality and production technology
From the late 1930s through to the wartime years, NTN drastically expanded production facilities, while also focusing on research on improving quality and rationalization of production. In addition, research by Kuwana's Central Technical R&D Center covered to increase grease performance and steel manufacturing technologies for bearing steel. Research of production methods resulted in completion of proprietary machine tools, automated assembly equipment and measuring instruments, with major contributions made to innovations in production technology.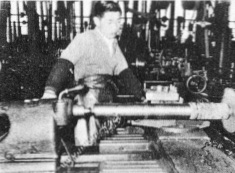 Turning at the time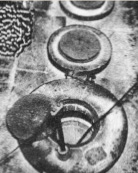 Hardening at the time
Bombed Kuwana Plant
Aerial bombardment during World War 2 was intensified around 1945. On July 23 that year, Kuwana Plant, NTN's main plant, was subjected to mass bombing raids, and lost its original form overnight.
At the time, Kuwana Plant was the largest plant in Japan manufacturing aircraft bearings.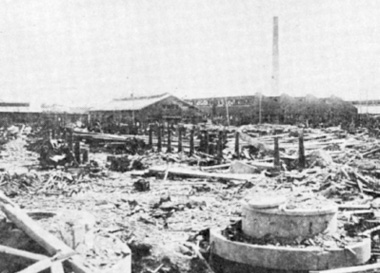 Kuwana Plant shortly after the bombings
Expanding facilities and plants with the ongoing concept of "quality first" since its establishment
Resume operations during the post-war turmoil
Operations at Kuwana Plant and Mukogawa Plant resumed around summer of 1947. As the management team that established the company retired, Mr. Shigekazu Ono became the second president from his previous posting at a bank.
The company responded to demand mainly for bearings for coal mining vehicles following rapid development of coalmines, and bearings with adapters for belt transmission equipment with the reconstruction of plants, while small size bearings for agricultural equipment and bearings for spinning and weaving equipment were also manufactured. Demand for large size spherical roller bearings was recovered relatively quickly due to reconstruction of ironworks and power plants.
Even the government considered the bearing industry as an essential core required to achieve an economic independence of Japan, and designated Kuwana Plant and Mukogawa Plant as vital plants. This helped to increase production significantly.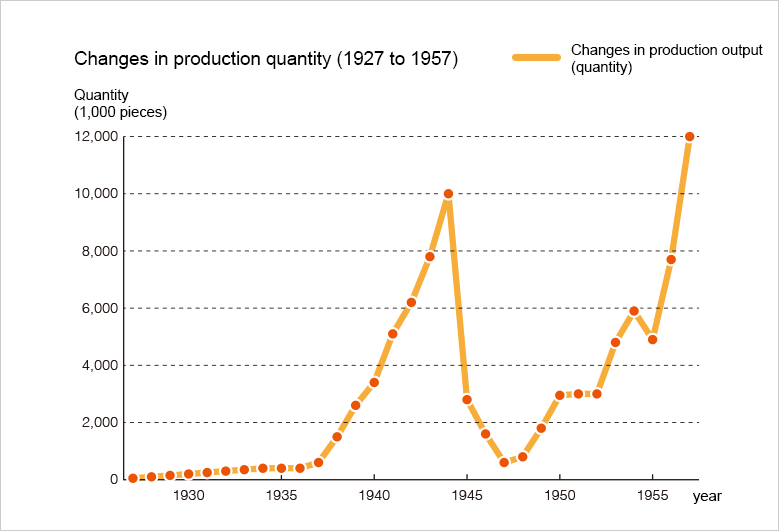 Modernizing equipment
NTN planned to modernize production equipment on a full scale 1952, and five engineers were sent to Europe to study the actual situation in developed countries. In addition to import model machines of core equipment, NTN worked with Japanese manufacturers of machine tools with the aim of producing equipments in Japan.
One area that NTN focused on was developing methods for quality assurance. Rather than investing in production equipment, NTN invested vast amounts of capital in departments to develop a foundation for quality assurance based on the ongoing concept of "quality first" since its establishment.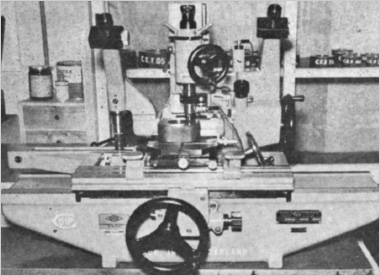 The first Swiss-made general-purpose length measuring machine installed by NTN after the war
Receiving the first Deming Prize* in the Japanese machinery industry
NTN (then Toyo Bearing Mfg. Co., Ltd.) implemented the first statistical quality control system in the machinery industry. The quality control method was applied company-wide, not only at plants. For this, NTN received the Deming Prize for the first time in the bearing industry as well as the Japanese machinery industry. The Deming Prize is the most widely recognized award in the field of TQM (Total Quality Management).
* Established by the Japanese Union of Scientists and Engineers to honor the achievements of American Professor Deming, who was the driving force for raising the quality of Japanese products to global levels by spreading the use of statistical quality control throughout Japan after the war.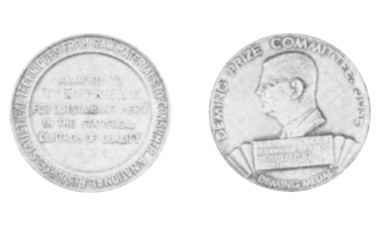 The first Deming Prize in the Japanese machinery industry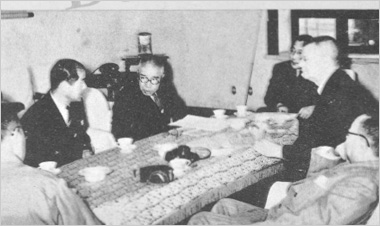 President Ono meeting with Professor Deming (1955, Mukogawa Plant)
Construction of Toyo Bearing Iwata Co., Ltd.
Positive economic conditions from 1956 saw NTN's tremendous growth, however President Ono fell ill and Mr. Yukio Takiguchi was appointed as president in 1959.
The following year, Toyo Bearing Iwata Co., Ltd. began operations as the first automated bearing plant in Japan. The plant began mass-production of small varieties of standard type bearings to strengthen exports with free trade agreements and increase market share in Japan.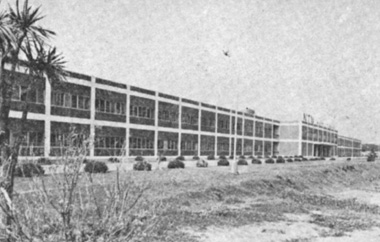 Toyo Bearing Iwata Co., Ltd. began operating 1960
Expanding further, from Japan to overseas
Establishing a full-scale mass-production system
From the 1960s, NTN began operating a full-scale mass-production system with initiatives such as installing 40 units of the state-of-the-art equipment at Kuwana Plant and Takarazuka Plant at the same time. Between 1960 and 1961, dedicated plants were established at Kuwana Plant for each bearing of spherical roller bearings, extra-small bearings and ultra-precision bearings. A new mass-production plant for tapered roller bearings was also set up at the Takarazuka Plant to meet the sudden increase in automotive demand. The Steel Ball Plant in Kuwana Plant was also expanded as part of efforts to achieve a self-sufficient supply system.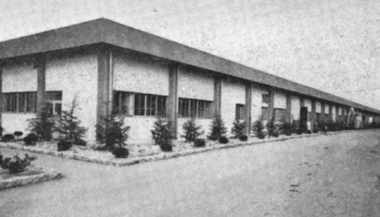 Takarazuka tapered roller bearing plant
Strengthening product R&D
In addition to expanding production, research into commercializing products was also strengthened. The laboratory in Kuwana was expanded, and a new automotive research center was opened in Takarazuka. In 1962, Machine Tool Laboratory Co., Ltd. (the present Production Engineering R&D Center) was constructed on land next to Toyo Bearing Iwata Co., Ltd. Active development of dedicated unique machine tools and measuring instruments played a major role in improving productivity at Toyo Bearing Iwata Co., Ltd and other plants.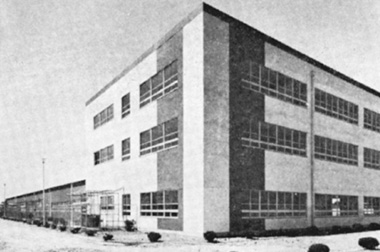 The Machine Tool Laboratory Co., Ltd. (the present Production Engineering R&D Center)
Business expansion through technical tie-ups
In 1962, the INA-NTN Needle Plant was constructed next to Toyo Bearing Iwata Co., Ltd. through a technical tie-up with Industriwerk Schaeffler of Germany. NTN also entered into a technical and sales arrangement with Hardy Spicer of the U.K., and Kuwana Plant began production of driveshafts from 1963 as a product anticipating the soaring growth of automobiles in the near future.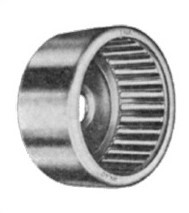 INA-NTN needle roller bearing with cage at the time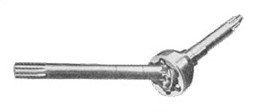 Driveshaft at the time
Advancing overseas, and expanding business further
In terms of sales, there was a growing opportunity in bearing exports from around 1956. NTN had steadily been expanding its business into overseas markets with the cooperation of trading companies, and established the sales company NTN Wälzlager (Europa) G.m.b.H. in Dusseldorf, Germany in 1961 to meet local demand. This was NTN's first sales company located overseas. In 1963, NTN established a sales company, NTN BEARING CORP. OF AMERICA in New York, U.S.A., and then opened sales offices n France and the U.K. the following year to expand sales overseas.
Furthermore, new companies were established and eventually they became the present Composite Material Product Division, Engineering Plastics Works and NTN Advanced Materials Corporation. to help NTN expand into new business fields in line with the company's 50th anniversary, and these served as the foundation for the company's growth.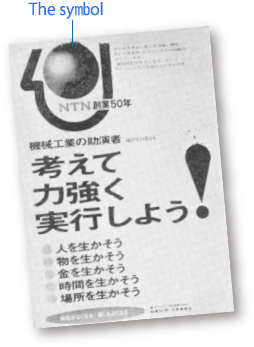 NTN's 50th anniversary poster
Origin of the Company name
The two Ns in the name NTN stand for Niwa and Nishizono. Mr. Noboru Niwa was the Company's first president who provided its startup capital, and Mr. Jiro Nishizono was its co-founding engineer. The T linking the two letters stands for Tomoe Trading Co., the organization that initially handled the company's sales. Since then, the company's products have always been marked with the NTN logo.
The company's name has changed a number of times through the years. It was first renamed "NTN Mfg. Co., Ltd.," and then became "Toyo Bearing Mfg. Co., Ltd." in 1937 as the company's presence expanded from Japan to the entire East Asia region (Toyo in Japanese). After that, the company's name was renamed today's "NTN Corporation."
In 1989, when the company's name was changed to "NTN Corporation," the meaning of "NTN" adopted "For New Technology Network" as a new direction the company should move forward to, which differs from the historical meaning.